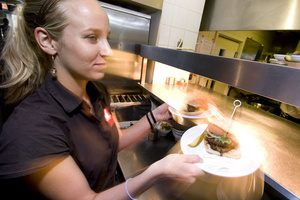 Eagle Bar Diner is offering one lucky diner the chance in a million to win a pair of tickets to New York. The West End eatery is about to serve their millionth burger, and to celebrate this outstanding acheivement will give away a pair of tickets to whoever places the order.
With a huge, globally inspired burger menu, Eagle Bar Diner customers have been feasting upon all kinds of variations of the humble patty; from the classic 8oz beef to the more exotic ostrich and bison burgers, and more recently specialist recipes like the British organic veal burger.
Eagle Bar Diner first opened back in 2003, and after a phenomenal six and a half years, has seen it's popularity soar gaining status as one of London's favourite burger destinations. The concept, inspired by the diners in America, offers visitors a venue where they can eat, drink and relax in a cool and unpretentious environment. Eagle Bar Diner is renowned for it's delicious burgers, and the introduction of a take out option saw orders double.
Over the next few weeks, customers will receive an entry card when they order any burger from the menu. This will be handed in and attached to the receipt, which will be tallied up at the end of every week. The winner will receive a pair of flight tickets from London to New York.
Eagle Bar Diner, 3-5 Rathbone Place, London W1T 1HJ