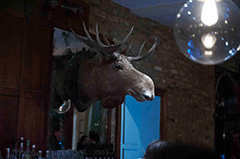 South Ealing's favourite gastropub (are they still called that?) officially reopened its doors last night and Packed to the renovated rafters with various foodies, bloggers,PR's and Ealing's great and good.
As well as the hosts, two roaring open fires gave everyone a warm welcome and it wasnt long before coats and and scarves were abandoned in favour of glasses of Champagne and various tasty canapes including brawn croquettes, Cep croque-monsieur and pulled pork baps. The pork from a whole suckling pig on display in the open plan kitchen.
During its closure a father and son team from Doncaster have lovingly restored the original interior. The beautiful wood panelling all adding to the welcoming cosy atmosphere. They've also added a colourful twist to the pub garden where they've built covered booths like beach huts which included wall mounted heaters for chilly evenings.
The most exciting addition to the Tavern is its very own micro brewery which sits in a small building to the rear of the pub. Here they'll produce beers and ales to accompany the menu. 
It's good to have this really nice pub back in leafy Ealing.
Ealing Park Tavern222 South Ealing Road, Ealing, W5 4RL