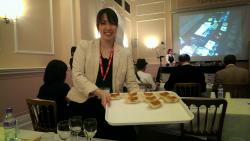 Time is ticking down to Hyper Japan at Earls Court next weekend 25-27 July. There's obviously a lot to see, but most foodies will be hurrying past the hi tech and getting to grips with the food at Eat-Japan. It's a rare opportunity to comfortably explore the country's remarkable range of food and drink with expert guidance.
There will be plenty of stalls selling Japanese food, hot and cold alcoholic and soft drinks, teas, candy, ingredients, snacks, sweet treats, and more. There'll be street food like okonomiyaki, Taiyaki, Takoyaki and that perennial London favourite, ramen noodles, as well as green tea, sushi, premium sake, and traditional liqueurs from Japan. Along with the freshly made food, visitors will be able to take home candies, cakes, and snacks, as well as Japanese ingredients and cooking supplies.
Scott Hallsworth, a former Head Chef of Nobu London, and now of his own brilliant (we've been back more than once, it's so good) Kurobuta (Japanese for Black Pig)  will be there as part of the  three-day programme of excellent Japanese food and drink demonstrations. His is one definitely not to be missed.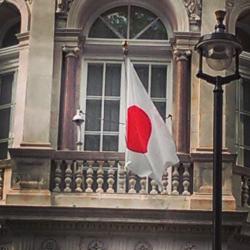 Sake is a bit of a mystery to most non-Japanese so this is a great chance to take some tutored tastings. The Sake Experience brings together 25 different sakes from 11 different breweries from sparkling, low alcohol sakes to strong sakes rarely if ever seen over here. Natsuki Kikuya former Head Sommelier at ROKA and Zuma and a founder of the Museum of Sake comes from a family of sake brewers and will be leading the sessions. We had an early preview of  matching various sakes to Japanese dishes and it was quite an eye opener. Don't forget either that genuine Japanese Wagyu will be at Eat-Japan now the ban has been lifted, a chance to see what all the fuss is about and taste the real deal and not some Australian or American ersatz product.
Try some koji, which is rice malt, it's at the very heart of Japanese cuisine and not only tenderises food but enhances flavour and Shio Kuji is a remarkable salt everyone should try and you can buy some at Eat-Japan.
A weekend of full on food fun is on offer but you may need to book ahead for some events at Eat Japan 
Sake facts
What is it? 
This alcoholic beverage is made from rice.  The rise used for sake is not the same as that which is eaten; rather sake is made from shumai, or brewer's rice, grown specifically for sake. 
How's it made?
Like wine sake is fermented; it is not distilled like whisky or spirits.  The rice is converted into sugar, and that sugar into alcohol.  Sake is made by a process, known as multiple parallel fermentation, which is more complex and more unique than that used in winemaking. More than 80% of any bottle of sake is water. 
What are the main flavour profiles?
Japanese tasters often assess a particular sake in terms of go-mi, or five flavours.  These are Karami (dryness), nigami (bitterness), shibumi (astringency or tartness), amami (sweetness) and samni (acidity). 
Should it be served hot or cold? 
Much of today's sake is still served warm or hot, partly because heating can mask unpleasant aspects of the flavor of the drink and make it more palatable; something which is often necessary in the case of the cheapest futsushu (regular sake).  Premium sake on the other hand, with its more delicate character and subtle aroma, is not generally recommended for heating to high temperatures.  One exception to this is honjozoshu, which is premium sake that has had a limited amount of brewer's alcohol added, and can have a lighter and smoother flavor when warmed – suitable for serving at up to around 50 degrees celcius.
When should you drink it and what with? 
Japanese cuisine in general is a good match for sake.  Many of the varieties go particularly well with sushi, although it can be consumed with many other cuisines.  Some sakes react well to herbs and go well with French cuisine and it can also taste good when paired with Chinese food too.