You're never too old for an Easter egg. Or too much of a cocoa connoisseur, or too skint to indulge. In a purely altruistic act, we got cracking into shells of all sorts to bring you this bumper delivery from the Easter bunny. From the little to the large; the sweet to the bitter; the novel to the nouvelle, all are in our basket. How will you eat yours?
Fortnum & Mason 'The Colossal' egg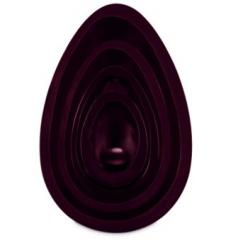 Pity the poor bird who birthed this beautiful behemoth. The five dark chocolate eggs that make up this spectacular beastie are nested, Russian-doll style, and each shell boasts its own vibrant flavour – chai, caramel, orange, rose and violet and Mitcham mint.
Available from Fortnum and Mason, £90
Hotel Chocolate A dozen quail egglets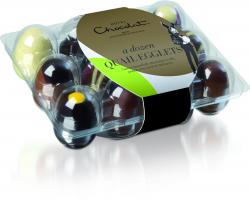 Jackson Pollack seems to have robbed a few nests for these multicoloured eggs, rendered with abstract patterns. The perfect size for popping in your gob in a single mouthful, the array of fillings include Hotel Choc's super-smooth, lickable pralines.
Available from Hotel Chocolat, £10
Thorntons Black Forest egg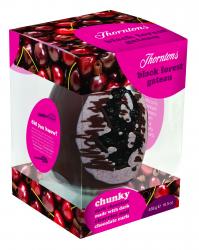 Inspired by that deliciously kitsch gateau of yore, the face of this dark egg is choc-ful of dried cherries surrounded with an arty pink cherry-choc border. Thorntons chocolate comforts without challenging – this is an easy, tasty eat. Also in trifle, toffee, and fudge varieties.
Available from Thorntons, £9.99
Enric Rovira Kilimanjaro egg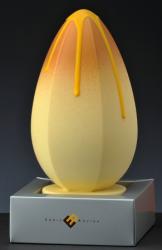 A Harrods exclusive, these sculptural offerings from master chocolatier Enric Rovira come as a series, each named after a notable mountain. With a trickle of chocolate descending from its airbrushed summit, we reckon this egg might like to change its name to 'Vesuvius'.
Chococo Dinosaur egg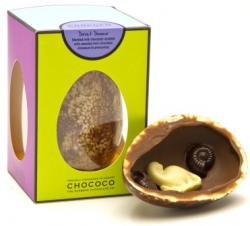 Reflecting the Dorset company's link to the Jurassic coast, this quirky hi-shine egg has a white-and-milk marbled outer, revealing embedded chocolate'ammonites' and tiny diplodoci when broken into. Fear not – the top-quality taste is anything but prehistoric.
Available from Chococo, £13.95
Paul Wayne Gregory Dark chocolate'marble' egg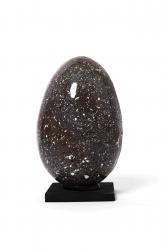 PWG is quite simply in a league of his own. His'marble' egg would look more at home in a museum. The polished finish resembles the real thing to a tee, so much so it's a shock to discover quite how edible the uniquely spiced milk chocolate actually is.
Available from Paul Wayne Gregory, £24.95
Carluccio's Gold egg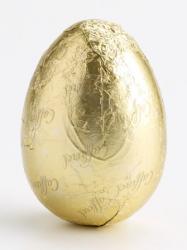 The'little black dress' of the Easter egg world, perhaps. These chichi little milk chocolate numbers are wrapped in sparkling golden foil, concealing a miniature surprise at their hearts. We're not telling… You'll just have to get cracking in order to find out.
Available from Carluccio's, £1.95
Waitrose Filled mini eggs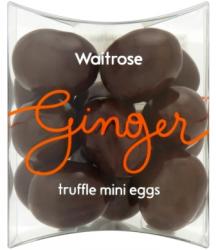 A more tasty alternative to their Cadbury cousins, these eggs come in ginger or cream truffle and marzipan options, the latter encased in realistic, speckled teal sugar shells. There's also a jolly jellybean version, offering a riot of rainbow-hued egglets.
Available from Waitrose, £3.50
FARHI Chick egg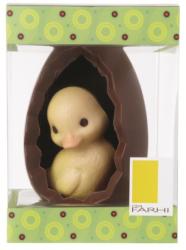 We defy you to look this sweet yellow chickadee straight in his beady eye and not crack a smile. And not to feel a twinge of emotion as you crack into his tasty white chocolate body. Start with his milk chocolate home so he can live just a little longer…
Available from Selfridges, £12.99
Hotel Chocolate'The Connoisseur' Rabot 1745 egg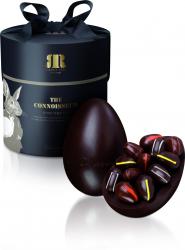 None of that wafer-thin nonsense – these are workmanlike-yet-elegant, proper thick shells. One half is Madagascan with 66% cocoa solids, the other intense Ecuadorean stuff with 82%. There's even more posh nosh inside; a selection of single-estate truffles.
Available from Hotel Chocolat, £30
La Molina Blackcurrant egg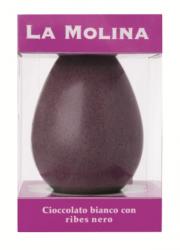 A lovely and unusual combo from La Molina, created by blitzing freeze-dried blackcurrants into creamy white chocolate. All at once tangy, tart, creamy and sweet, it makes for a most agreeable eating experience and produces an egg with an unusual, vibrant hue.
Available from Selfridges, £17.99
Paul A. Young Salted caramel egg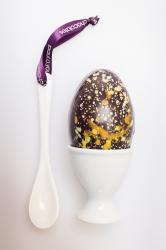 As if Paul's signature sea salted caramel weren't treat enough on its own, he's gone and dolloped it into a large duck egg-sized shell of 64%-solids Madagascan chocolate and served it forth in a porcelain eggcup, with its very own dainty spoon. The tasty devil.
Available from Paul A. Young, £19.99
Rococo Praline-filled hens' eggs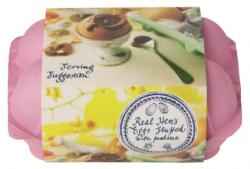 These wonderful freaks of nature would liven up a cooked breakfast a treat. Inside the carton, half-a-dozen real eggshells filled to brimming with praline. To eat, warm in a low oven and dip in, or freeze and peel like the hard-boileds you have on a picnic.
Available from Selfridges, £24.99
Carluccio's Uovo alla coque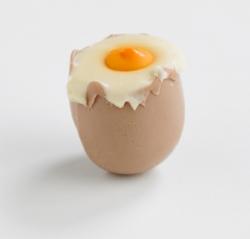 Wittily decorated to resemble a rather perfect soft-boiled specimen, Carluccio's diminutive egg is actually made from milk and white chocolate with a melty hazelnut gianduja filling. No yolk – these are pretty realistic, although unsuitable for soldiers.
Available from Carluccio's, £2.95
Selfridges Filled milk chocolate egg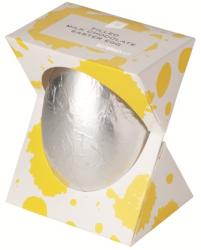 The size of a large fist, this egg is punching above its weight quite literally- it's deceptively heavy for its stature. The chunky shell is stuffed with a wealth of miniature offspring in various flavours, including praline, milk, white, and dark. Don't drop this one on your toe, or you'll know about it.
Available from Selfridges, £19.99
Favorina Small filled eggs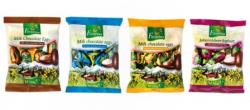 Lidl comes up trumps again, with bags of brightly foiled baubles the size of small hens' eggs. With eight to a pack, available filled with almond and hazelnut pralines, and strawberry, cherry or raspberry crèmes, they deliver a lot of choc for your change.
Available from Lidl, £1.19 or 2 bags for £2
Waitrose Praline quails' eggs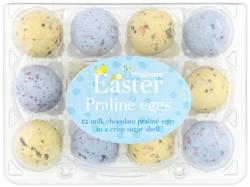 This little eggbox displays a dozen sugar shells that rather accurately ape their bird-born counterparts, but taste a whole lot better when bitten. The deep, rich praline filling might be rubbish for dipping an asparagus spear, but contrasts splendidly with the crisp shell.
Paul Wayne Gregory Milk chocolate'mango' egg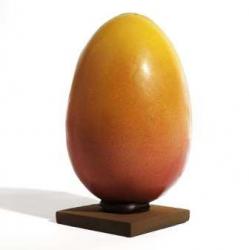 The perfect mango is hard to come by. Paul's made the elusive treat slightly more tangible and perhaps even more luscious, imbuing the fruit's unique flavour into this exquisite hand-painted egg by studding the inside with dried mango pieces.
Available from Paul Wayne Gregory, £24.95
Racca Easter pig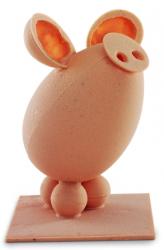 Tell the greedy recipient exactly what you think of their chocolate-scoffing habits with this fanciful egg, cleverly constructed to accurately resemble an oinking farmyard friend. The fetching piggy pink shade is achieved by blending raspberries into a white chocolate base.
Creighton's Chocolaterie Rainbow egg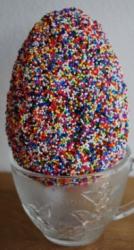 A jolly jazzy egg just like those Jazzies you used to eat a jolly lot of from the sweetshop. This multi-coloured beauty is encrusted with rainbow hundreds-and-thousands that don't only look rather fetching, but add a gorgeous gritty crunch when the choc is chomped.
Available from Creighton's Chocolaterie, £9.50
Thorntons Marvellously Magnificent milk egg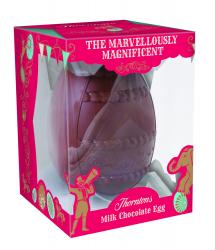 This monster is a top family treat for sweet-toothed clans who will chomp through this kilo of creamy chocolate as quick as you can utter its high-falutin' name. Equal sharing is not a viable option here- get smashing, then it's simply every man for himself. Ready, steady, scoff!
Available from Thorntons, £24.99