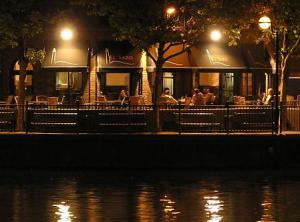 El Faro and sommelier Armit come together to present the wines of Alejandro Fernandez. More than a working philosophy, the four wineries (pesquera, Condado de Haza, la mancha and dehesa La Granja) that form the wine heritage of Alejandro Fernandez: the 'pesquera corporation', share the same story of love for the viticulture that time helped perfect. All the vineyards are planted with tempranillo vines. Next to Vega Sicilia, Alejandro Fernandez is considered one of the pioneers of modern style of Ribera del Duero wines. Through over thirty years of history, always under the baton of Alejandro Fernandez, the group has achieved the status of an international reference, a model of 'know how' to be followed in all wine regions throughout the world and a synonym of high quality wines.
This 'bodega' will commence at 7pm with a selection of canapés and wine and at 7.30pm the food and wine pairing will commence. The host will introduce and discuss each wine individually which will in turn be accompanied by specially selected dishes designed by head chef Javier Capella to enhance the flavour and the character of the wine. See menu details below.
£40 pounds per person. Spaces are limited.
3 Turnberry Quay Pepper Street London E14 9RD | 020 7987 5511|www.el-faro.co.uk
WINES
CONDADO DE HAZA 2006 Red wine
PESQUERA CRIANZA 2006 Red wine
DEHESA DE LA GRANJA 2003 Red wine
PESQUERA RESERVA 2005 Red wine
ALENZA GRAN RESERVA Red wine
FOOD MENU
ACEITUNAS, BOQUERONES Olives, anchovies on arrival
CROQUETAS CASERAS DE JAMON 5J
Home-made 5j ham croquettes
CHORIZO EN TEMPURA Y COMPOTA DE TOMATE
Chorizo in tempura with home-made tomato jam
DADITOS DE CERDO CON PURE DE BONIAT
Suckling pig comfit cubes with sweet potato puree
CARRILLERAS DE CERDO IBERICO CON PINA E HIGOS
Iberian pork cheeks in red wine with pineapple and figs
ENTRECOTTE DE BUEY A LA PARRILLA CON GUARNICION
Grilled Northern Spanish sirloin with mushrooms and potatoes
3 Turnberry Quay
London
E14 9RD
0207 987 5511