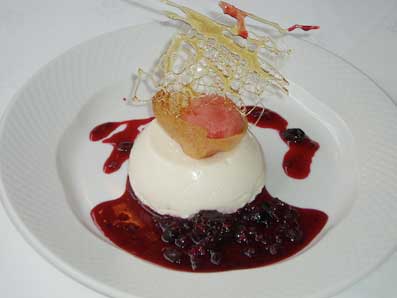 Elizabeth's of Eastgate, Rochester's historic French restaurant is to serve special menus dedicated to the English patron saint on 23rd April. Elizabeth's was quoted in the novel Great Expectations by Charles Dickens, as the home of Uncle Pumblechuck. The 16th century Tudor building retains many original features.
The £30 dinner comprises a Toad in the Hole appetiser; Melon and Prawn starter; Lemon Sorbet; Traditional Roast Beef in a Madeira jus with roast potatoes and Yorkshire Pudding; with a Home Made Banoffee Pie pudding.
Quizzed as to the concept of a French celebration of St George's Day, Elizabeth's, French-born Head Chef: Yannick Fausse said, 'Why not? I love England. I live in England," adding, 'But the best cuisine is French, but that's not to say that it cannot help improved with addition with subtle influences of the best English, Italian and Spanish cooking."
Fausse, who trained in his native Ardennes region of northern France, bordering Belgium, has working for leading restaurants and hotels in Canada, Dublin and London, including a spell with the Michelin-starred patron/chef Richard Corrigan.
Sous Chef, Nic Antoncini is Italian, and previously worked at the Hythe Imperial Hotel.
Proprietor Manuel Mouzo commented: 'Food is an international language and whilst most of ingredients are English, we bring to bear a fusion of modern European influences to an essentially classic French style."
The a la carte menu features starters of Baked Portobello Mushroom, with red onion marmalade, goats cheese and buttered spinach; a Duo of Locally Smoked Salmon with a caper dressing; Home Made Game Terrine with a port reduction and Roasted Whole Quail, Buttered Spinach, Cassis Jus. Mains include Grilled Rump of Romney Marsh Lamb with Rosemary Jus and Lyonnaise potatoes; Fresh Local Dover Sole with tartar sauce and new potatoes; 'Limousin' Cote de Boeuf in a red wine jus. Puddings number Warm Tart Tatin – caramelised apple and puff pastry, cooked upside-down with calvados ice cream; Baileys Parfait with roasted pistachio & hazelnut ice cream, vanilla anglaise; Crepes Suzettes and British cheeses.
A two-course lunch costs around £15.50 and three-course diner £30.
An extensive wine list, featuring old and new world wines has entry-level of £15 but includes the noted Chateau Kirwan 1998 Margaux for £110.00 and Batard Montrachet 2004 Grand Cru at £220.00
Elizabeths Restaurant
Tel: 01634 843472
154 High Street, Rochester ME1 1ER