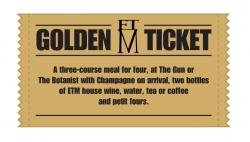 Never mind Kate and William's Golden Tickets, sought after invitations this party season should belong to Tom and Ed Martin, owners of eight award-winning London pubs, including The Gun in Docklands, The White Swan on Fetter Lane and The Cadogan Arms on the King's Road. They have hidden ten glittering golden tickets amongst Christmas cards given to every single pre-booked diner this December.
Everyone will be a winner at Tom and Ed Martin's pubs this December. Each diner will receive a special Christmas card to include one of ten treats among which are complementary glasses of wine, bottles of house wine, glasses of black velvet, platters of oysters, free time playing pool, free mains and desserts, all redeemable in January and February 2011. Amongst them there are are glittering golden tickets hidden with prizes including tickets to Royal Ascot, a personal chef to your home and dinner for four at any of the group's pubs and restaurants.
For more information about this giveaway, go to www.etmgroup.co.uk where you can find details of your nearest venue.