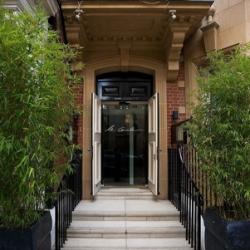 The Express Menus at 108 Marylebone Lane and Le Cercle are perfect for people in a rush who want good food fast.
The Express 45 Minute Two-Course Lunch Menu at Marylebone Lane guarantees guests' dishes will be on the table within 45 minutes and if they're not the £14.50 charge for the two-course meal does not apply.
A special menu has been created for this express lunch, with the Executive Chef Norman Farquharson changing the classic and simple dishes every week.
Over at Le Cercle in SW1 there's a 30 Minute Express Lunch promotion going on where it's £15 for three courses or a four-course meal for £19.50.
Operated by the team from the Michelin-starred Club Gascon, the food at Le Cercle is high quality French fayre. Summer salad & hazelnut vinaigrette, haddock a l'antiboise & basil pulp seared scallops, pea pulp & Provencal dressing and Chocolate fondant with ginger ice cream all feature on the new Express Lunch Menu.
Whether you opt for the luxurious decor of Le Cercle Restaurant or the super-stylish surroundings of 108 Marylebone Lane. One thing is certain; the food will be quick!
Guests at 108 Marylebone Lane are asked to quote booking reference 108 L45 when taking advantage of the new Express Menu offer.