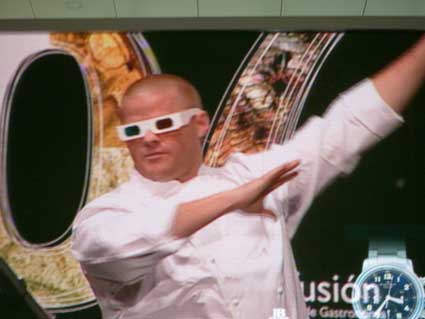 Fresh from the PR engine:
"Mandarin Oriental Hotel Group and The Fat Duck Group have joined forces to create the first London restaurant with Chef Heston Blumenthal which will open at Mandarin Oriental's award winning property in autumn 2010.
Blumenthal, of the three Michelin starred The Fat Duck in Bray, Berkshire and The Hinds Head pub of the same village, has won international acclaim for his unique and multi-sensory approach to cooking. This first restaurant to open outside of the village of Bray will feature the chef's inimitable style of culinary alchemy with a menu heavily influenced by his ongoing research and discovery of historic British gastronomy.
Mandarin Oriental and Heston Blumenthal are working with the internationally renowned designer, Adam Tihany, to create the restaurant interior. Inspired by historical British style references and Blumenthal's novel approach to cuisine, Tihany plans to highlight traditional materials such as wood, leather and iron, found in the historical roots of British style, using them in contemporary ways to reinforce Heston's revival and modernization of traditional British recipes.
Seating 140 guests, the new restaurant will serve lunch, dinner and afternoon tea. The kitchen will be headed by Ashley Palmer Watts who has worked with Blumenthal at The Fat Duck for nine years in the capacity of Group Executive Chef.
Blumenthal commented 'I am thrilled at the prospect of opening a restaurant in such a central London location. I have great respect for the Mandarin Oriental brand and working in partnership with the hotel group is a natural step and one which offers an exciting opportunity."