Gone are the days when the choice of where to eat before a concert, film or play on the South Bank meant you had to choose between dreary ordinariness and overpriced ordinariness – except for the first restaurant to appear in the area, the then pioneering The Archduke wine bar, and, later, whichever celebrity chef chose to set up shop at the Royal Festival Hall (RFH) restaurant with its impressive views over the Thames. Now The Archduke, which descended into dullness, has re-emerged as part of the Black and Blue steak and burger group; the RFH has handed its restaurant and bar, now named Skylon, to D&D (formerly Conran Restaurants); and all around is even more evidence that only the chains can afford the high rents of this prime spot.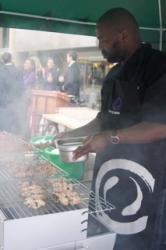 There is little scope to divert from this – often far too formulaic – formula but Feng Sushi has achieved it, at least during this summer. Hoping for good weather, it has set up a Japanese barbecue offering small bites and cocktails to those of us who want a bit of variety without resorting to grabbing a sandwich or salad and perching on a riverside bench.
It was windy the evening the barbecue launched, causing impressive flames to leap above the hot grills, challenging the team on day one with our weather's Britishness. Its presence will inevitably be unpredictable but, if the sun is shining, it's worth experiencing this gap-filler.
We started with Japanese cocktails which, that night, included ginger and mint shochu (pronounced xôtyû; a Japanese spirit similar to vodka). I'd have smashed a shred or two of ginger root with the mint to give it a bit more depth and bite but others appreciated its subtlety. Feng Sushi's homemade lemonade had an unexpected banana base; made with yuzu, which has a citrus taste somewhere between lemon and lime, I'd have preferred it to have a stronger lemon hit. Both cocktails were light and sweet, the alcohol kick barely discernible, and very much girls' drinks – a ring-the-changes alternative to Pimm's. Japanese beer is available on draft for those who want something more acceptably masculine. As with the food, the cocktails (£4.50 each) will change from day to day; watch out for sake sangria and Japanese bullet with shochu.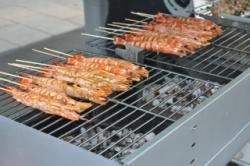 The skewers on the barbecue were more captivating – the unmistakable smell on the wind would have stopped me from strolling by if I hadn't been on my way there anyway. Chicken yakitori was as succulent as any I've eaten; the pork tsukune (a generously-sized pork ball) was lively on the palate; but the star of the show, at least in looks, were the giant wild-farmed Indonesian tiger prawns with yuzu. All were served with a delightfully fresh, light and healthy Japanese slaw (colourfully bright from the green of soya beans and slivers of red cabbage). Dishes will vary depending on the availability of fish; miso marinated organic tofu will satisfy true vegetarians. £5 for any two skewers.
And, to make it easy, a pitcher of drink and five skewers will set you back a moderate £20.00. Exactly right as a pre-theatre or after-work snack.
Silla Bjerrum, chef and co-founder of Feng Sushi, is known for her commitment to sustainability. Eighty per cent of Feng Sushi's trade as a business is from deliveries – made on bicycles. The barbecued skewers are served in neat cardboard boxes with simple wooden chopsticks. Chicken is free range; the giant tiger prawns wild-farmed. Feng Sushi supports the Marine Stewardship Council, which champions certified sustainable seafood, and is praised for its stance on the campaigning restaurant guide Fish2Fork. You can be sure that fish from the Thames won't make it to Feng Sushi's kitchen, even though it's very local.
Feng Sushi Japanese barbecue: In the gap next to the bronze sculpture of the bust of Nelson Mandela outside the Royal Festival Hall, on the first level down from the wonderful Hungerford Bridge. On sunny Thursdays, Fridays, Saturdays and Sundays from 12noon until 9pm.