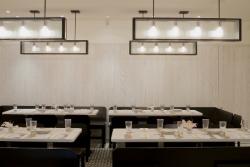 Vietnamese restaurateur Hieu Bui has opened his fourth restaurant inLondon, a second incarnation of Cay Tre this time in the heart of Soho.
With a mission to explore the changing face of Vietnamese food, and his experiences of living and eating out in London, Hieu has pulled together what he believes to be a modern interpretation of Vietnamese gastronomy.
Designed by uber restaurant designer David Archer, Cay Tre Soho is an exciting new departure in Asian restaurant design and follows previous successful ventures in East London at Cay Tre Hoxton, Viet Grill and the recently opened funky Banh Mi deli, Keu!, both located in Shoreditch,
Dishes of note include Hieu's spinning roast Tamworth pork, spicy ground pork belly stuffed with 'mac mat' curry leaves, found in the north of Vietnam near the Chinese border. The leaves are then stuffed into pork skin, sewn into a handbag-like shape, boiled gently in aromatic herbs and spices then roasted in honey.
Also on the menu is a Dung Do mutton curry with Vietnamese herbs, served with rice noodle buns – one of the oldest dishes from the largest Indian mosque in Saigon. Foodies are also raving about the slow-cooked Mekong catfish caramelised in fish sauce and the grilled aubergine topped with ground pork and nuoc cham – a sour-sweet-salty-spicy dipping sauce.
Cay Te Soho, 42-43 Dean Street, London, W1D 2PZ