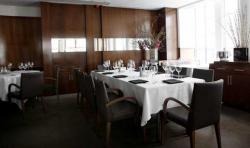 You catch glimpses of the man – Giorgio Locatelli, his trademark hair almost back to its original piratical length, emerges from his kitchen at Refettorio every now and then to see how the 'grass' is going down with guests.
I'm liking it a lot, the seasonal treat that is English asparagus, or 'grass' to greengrocers, is fresh, crisp and delicious. At this time of year it demands to be eaten every day because when it's gone, it's gone and we'll soon be back to inferior foreign stuff.
Refettorio is relaunching and part of that is this two-week asparagus menu promotion, created by Locatelli together with Head chef Alessandro Bay, to really show off what asparagus can do when cooked by the right hands.
It starts with tradition – asparagus, poached eggs and shaved Parmesan salad. There is an affinity between asparagus and egg that is almost magical, I've eaten soft-boiled eggs using asparagus as 'soldiers' and it's been both simple and delicious.
Here the magic works again with the perfectly poached eggs popping open to reveal golden yolks that swirl around the vibrant green asparagus stems like a yellow tide. The salty Parmesan drives the flavours forward and the scattering of salad leaves adds astringency.
Home home-made spaghettini with scallops, asparagus tips and chives has the freshest pasta I've eaten in a long time, each strand plump and al dente, somehow staying separate from its brothers in a way I can never achieve at home. It's good to have scallops as slices and not as the ubiquitous whole scallop, pan-seared.
The asparagus tips are almost the same texture as the spaghettini and the mild oniony bite of the chives flecked throughout the dish is a good call by chef. Nothing dominates and everything is balanced.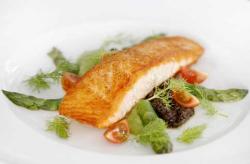 I am a little unsure about the following dish of pan-fried salmon, asparagus puree, black olive tapenade and cherry tomatoes. The salmon is a bit sashimi for me; the outside is seared beautifully and the cooking has continued through well but the core of the fish is a cigarette paper away from being raw and so has a slightly gelatinous texture. I am a bit of a wuss about fish cooking though and I am ready to accept I may be wrong on this one.
The powerful tapanade is excellent with the fish and turning the stems of the asparagus into a puree is good way of making the most of them. The cherry tomatoes looked a bit wrong though, they always seem to me to be a Croydon garnish, something to impress punters who don't eat out much. I say all this, but I cleared my plate all the same.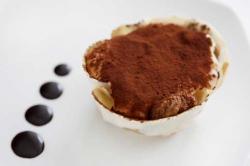 A final dish of Tiramisu, no asparagus, shows that this dated dish still has the power to make grown men dribble, especially when presented so elegantly
At £35 a head this is real value in a smart restaurant whose customers radiate comfort and disposable income. The grass is good, so get grazing
The Asparagus Promotion lasts until approximately the first week in June. Contact Refettorio for details
Refettorio Restaurant. 19 New Bridge Street, London, EC4V 6DB – Tel: 020 7438 8052