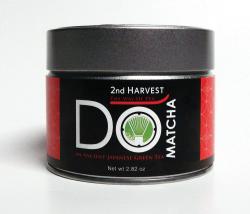 Taking part in a traditional tea ceremony was one of the lasting memories of my magical journey in Japan. It went like this: A group of us sat down in a tea hut in a beautiful Tokyo garden, a senior geisha tea master smiled demurely, picking up a bowl and frothing up the green powdery mixture using a small bamboo whisk, before handing shallow drinking bowls of it out to us. Observing 'tea ceremony etiquette", we nodded to her in respect and turned our bowls after each sip. I can see why Japanese royalty, zen monks and the samurai lords of Kyoto loved the whole ritualistic element of this unusual, thick frothy tea, although its bitter-sweet earthy taste takes some getting used to.
Health kick
Matcha tea is not even remotely like the Chinese green tea or Japanese Sencha green tea that you steep in bags. The tepid green froth produced by Matcha's super-fine powder tastes surprisingly thick and bitter, but not unpleasant, a bit like liquid grass. Another compelling reason why I'm so fixated by this ancient green tea is because I know it's so darned good for me (I honestly believe that drinking it several times that week put paid to a suspicious-looking mole, which vanished while in Japan). It's obscenely healthy in fact, being packed with antioxidants and chlorophyll, and is a much more gentle, sustained energiser than an all-guns-blazing coffee rush. Matcha contains the youngest and finest top three leaves of the plant, and the whole leaf is pulverized.
I was overjoyed to find that EAT cafés back in the UK sell Matcha lattes too. I am now incapable of walking past EAT without buying a large Matcha latte. But I don't just have it the insipid way that EAT normally serves it (barely any green matcha powder and tons of sickly sugar syrup, what's that all about? Profit margins no doubt – I ask for my Matcha latte the authentic Japanese way: bitterness, greenness and all. EAT sell iced Matcha lattes, which, in theory is perfect for summer. But they sell it for an inexplicably inflated price of £3.20, which is absolute robbery given all the almond milk and ice they chuck in, there's hardly any matcha powder in there unless you pay for an extra shot).
DOMatcha do's and don'ts
My ears pricked up when I was given the opportunity of reviewing DOMatcha Second Harvest powder and of having a go at preparing it myself using an authentic matcha whisk, just like the ones used in traditional tea ceremonies. Wow this stuff is expensive, which probably explains EAT's tendency to replace the Matcha powder with cheap syrup! £29rrp for only 80g. The powder arrived stored in a small tin with an airtight silver foil bag inside. As soon as I cut the bag open, at least a tenner's-worth of the super-fine green matcha powder puffed up in to the air and all over the kitchen counter. For something so pricey, couldn't they have been a bit more intelligent about the packaging? Still, what was left of it was good if very bitter and apt to coagulate. Perhaps this is because it was Second Harvest and not premium Ceremonial Grade quality (the latter sells for an eye-watering £25 for 30g and is harvested in the spring with an apparently much sweeter flavour than the more astringent Second Harvest).
There is a nack to preparing this Matcha into a great cuppa, and I definitely haven't mastered it. The recipe pamphlet explained that the secret lies in creating a thick paste first (like when preparing powdered custard), then adding water or milk and sugar to taste. It helped using the whisk, although it was a pain to clean. I found that thick matcha latté using milk was infinitely more palatable than a water-based matcha tea, at least for western tastes, and that a spoon of vanilla sugar vastly took the edge of its bitterness. Not one for every taste, but a marvel for the health-minded wanting a change from their skinny decaf.
Three things you didn't know about matcha latte:
• It contains up to 137% more of the potent antioxidant EGCG than normal steeped green tea
• It's a strong blood detoxifier and alkalizer
• The ideal temperature for heating DoMatcha is between 65-85ºC.
DoMatcha Second Harvest Tea (80g), £29, available direct from www.healthyandessential.com More information at www.domatcha.com