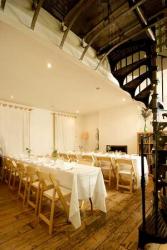 Underground is cool. Underground is hip. Underground is clever. Except of course when it's The Underground, then it's hot, boring and stupid.
Add underground to a noun or verb and people sit up and take notice, it says 'this is only for those in the know'. And right now Underground restaurants, sometimes known by the rather middle class name of Supper Clubs, are popular with the young and trendy.
Now I am neither of those things, in fact I make Arthur Smith look cheerful and happening, but invited by Bisol Prosecco the sponsors of Supper Club at The Clove Club, to get round to Dalston to get a taste I quickly grow a baby beard, stick a sock on my head and go.
It's actually in the less trendy Hackney area, according to my trusty second hand sat nav, the one that's so old it hasn't heard of the M5. Maybe they shifted Dalston's boundary after requests from estate agents trying to ramp prices?
A second floor flat, in what was once a rather large terraced house, it's thankfully not as uber cool as I feared it might be, you could even call it a bit grungy although perhaps not to the owner's face. Greeted at the door by a chef, if not The Chef (there are at least four men wearing aprons) I get a warm welcome and glass of Bisol Jeio Brut, a quintessential Prosecco – straw yellow and vivacious and sherbetty and almost a pre-made Bellini with it's peach notes. The place is packed with three long tables to seat at least thirty people, while the rear of the room is given over to an extreme field kitchen where things are looking hectic but under control.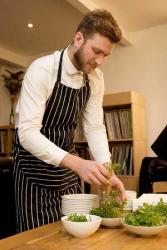 This is because the chefs are pros; this is not a blogger/amateur chef event, these blokes have proper cheffy jobs by day and night and know how to prep, prioritise and manage food flow. Tonight's Head Chef is Swedish chef Robbin Holmgren. Robin is sous chef at St.John Bread & Wine and has worked at some of the best restaurants in Sweden including Mistral and Den Gyldene Freden,
Although billed as an alternative to restaurants, supper clubs are fairly traditional on price – tonight's costs £40 a head and you bring your own wine – so fairly close to restaurant prices, if not their ambience.
What you get that's very different is an evening with people, rather than just with your partner, a social event in fact albeit one that feels like it's been directed by Wallpaper Magazine. You can imagine the photo captions to come, 'Daniel, a social media structural analyst, shares a joke with Binty whose new exhibition of sculpted dogs' faeces opens in Hoxton next week.'
Aided by the prosecco and very good canapés of Deep Fried Pig's Skin, with an Apple & Wild Fennel dip and Smoked Cod's Roe, Quail Egg & Dill, the aniseed notes being very Scandinavian, people stand around and chat to total strangers. It's soon indeed apparent that most work in the creative industries, with the occasional city person or lawyer wearing mufti sneaking in. Aussie accents mingle with New York ones and you overhear things like 'The scene in Beirut is so great right now, you should totally go!' Well I wouldn't try telling that to Terry Waite, mate.
The chefs do a good waiter job of passing around those canapés and shooing people to their seats so that we're all comfy in time for the first course – Lightly Pickled Mackerel, Rhubarb and Oats. Here again the Scandinavian influences are clear, pickling fish being a classic Northern way of preserving. The fish is mild, which makes a nice change for mackerel, although the pickling vinegar is too strong and repeatedly catches the back of my throat making me cough like Albert Steptoe toking on a bong.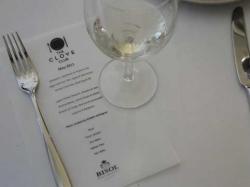 The slick sweetness of the rhubarb and the chewy texture of the oats work very well together though. It's a dish I'd very much like to try again, but with the vinegar reduced in astringency. Everyone has their own wine, and Sam, the nice girl next to me, has bizarrely brought her own ice cubes but I am on the Bisol Prosecco, which goes fairly well with this dish.
It's Bisol Crede Prosecco Superiore Vintage 2010, a blend of 85% Prosecco, 10% Pinot Bianco, 5% Verdiso which is a very elegant wine and cut above the average Prosecco.
Stinking Bishop is of course as English as tuppence; lightly melted it's served with some halved Jersey Royals and cooked nettles. The flavour and texture combination is marvellous, nettles are one of those foraged foods we have in abundance in the UK and their tender tops make a real goodness packed vegetable. If you can avoid getting stung, and we all remember how powerful a punch they have, then they're well worth gathering when young and vibrant.
Braised Ox Cheek, Beetroot and Horseradish is also very good, the Ox Cheeks have been very slow-cooked but not sous-vide, so the texture while soft is not pappy. The richness of the meat is pointed up by the crackle of the horseradish and the sweet beetroots, with their rings of white and purple, are a perfect dancing partner.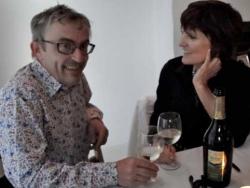 And finally Liquorice and Raspberry dessert which everyone goes gaga over. The combination of liquorice's unique flavour with the raspberries makes a marriage of tingling freshness and deep bass notes.
The Bisol Carrizze Superiore vintage 2005 with it is the best Bisol yet; a single vineyard wine, from the Cartizze hill, it's creamy and deep and perfect for dessert drinking and like all the Bisols it's surprisingly low-priced. The low alcohol content makes it a good choice for starting parties with too, and good for me with a car parked outside, no doubt with the local lads already removing its wheels.
And then it's time to get in the car and roll back to my crib in Sarf London. I breathe a sigh of relief passing over London Bridge, I can taste the sweeter air of my 'hood and the swarming feral kids make me feel all paternal as I turn off the satnav and head for home.
The Clove Club meals are interesting, fun, tasty, unpretentious and well lubricated by sponsors Bisol. More are planned so check them out and like Paul Weller said, go Underground.