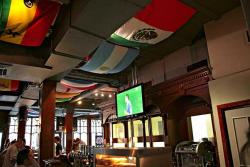 It's the world cup. In Brazil. Which means some of the games are on a little bit late. Well, there's somewhere in Fulham that promises to play every single game (with the sound on).
The Broadway Bar, in Fulham Broadway, not only has a late night licence but it is offering up its space in the name of the great game before it closes its doors for a refurb (the day after the final is played). While the bar is touted as the'UK's only dedicated pop-up bar', don't be too mislead though. Ultimately, it is a pub – just that it's giving itself up to football fans for the duration of the tournament.
They're temporarily naming the joint after Nick Hornby's soccer mad novel, Fever Pitch. One of the main selling points seems to be its 14 screens, so if you're worried about missing that Iran – Bosnia-Herzegovina match, then fear not – the TVs are visible from almost anywhere in the pub.
Large groups can book a space too, either inside, or out on the terrace (where there's promise of barbequed food). Fever Pitch has the range of usual ales on tap, and lot's of flavoured ciders if that's up your street. They'll be sourcing a special world cup menu too, which promises some Brazilian grub, and the usual steak sangers and gourmet pies.
As a crowd pleaser, they also have fussball and ping-pong tables. And its safe to assume there won't be a'no football shirts allowed' policy…