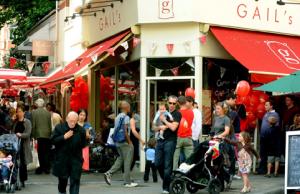 Gail's Bakery will be hosting their fifth annual Garden Party this year, on the 11th September at their Hampstead store in London.
The free food festival will be taking place between 10am and 6pm on the corner of Hampstead High Street and Oriel Place. It is a real family event with over 20 different food stalls, children's entertainment as well as live music. In the past, it has attracted around 10,000 members of the public.
This year's stallholders include Neal's Yard Dairy, Jing Tea, Chegworth Juices and Paul A. Young chocolates.
Of course it's not all fun and games. The event will also help raise funds for the North London Hospice.
So for more information on a fun day out, go to www.gailsbread.co.uk