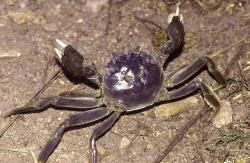 The Swan at Shakespeare's Globe will be serving Chinese mitten crabs as part of a Thames-inspired menu celebrating London's most famous river.
With its source in prehistoric times, the life giving Thames at times bustled with as many as 2,000 boats each day, loaded to the gunwales with precious goods and intrepid travellers.
In the 15th century eels, kipper salmon, mullet, lamprey, smelt, sturgeon and 'white bayte' were caught in nets baited with cheese and tallow.
In the 17th century the river welcomed merchants who brought riches and exotic tastes from far-flung corners. From the East Indies came tea and china, as well as cotton and pepper; from the West Indies came rum and coffee, sugar and cocoa.
In collaboration with creative director, Mark Sargeant, The Swan's head chef, Kieren Steinborn features Thames produce on his menus, from perky brown shrimps, to saline cockles, oily herring and sumptous Theale Mallard.
The Thames Menu features a delectable trespasser. Landing in the ballast of ships in the 1930's, the Chinese mitten crab is a relatively new edition to the river's ecology. Although classed as a pest because it burrows and destroys riverbanks, it will take pride of place on the Thames Menu as a delicate bisque with roast garlic brioche crouton.
Steinborn will also use spices and exotic fruits to tell the tale of this magnificent river.
The Thames Menu
Potted Brown Shrimps, Smoked Cayenne Pepper, London Bloomer
Mitten Crab Bisque, Roast Garlic Brioche
* * *
Roast Theale Mallard, Turnip and Sprout Gratin, Spiced Cherry Sauce
Baked Herring, Thames Estuary Cockles, Weston's Cider Sauce
* * *
Elizabethan Bramley Apple Pie, Madagascan Vanilla Cream
Roasted Pineapple, Cracked Black Pepper, Cinnamon Ice Cream
Available throughout September in celebration of the Thames Festival, 11th and 12th September
£19.95 for two courses and £22.95 for three, accompanied by a glass of wine or Honey Dew ale
The Swan at Shakespeare's Globe 21 New Globe Walk, Bankside, London SE1 9DT