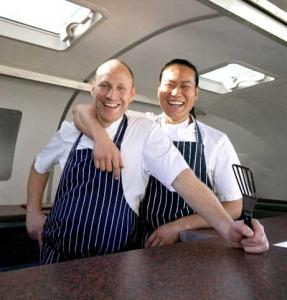 'Well it's something good coming out of a van isn't it? Makes a change,' says Mark Jankel, chef and founder of The Food Initiative, as we survey the bio-degradable wreckage of our lunch – food boxes made from starch and cutlery made from sustainable woods.
Across the table his partner in street cheffing, Jun Tanaka the acclaimed executive chef of Pearl in Holborn nods in agreement. 'We're taking UK street food to the streets of London.' He says 'All sourced from the UK, every little bit, and served in minutes, just the way street food should be.'
And served by the chefs themselves too, which is not something you see every day. During London Restaurant Week, Jun and Mark will be personally touring London in a specially adapted Airstream trailer, the legendary silver bullet of American 50's films, doling out a menu it has taken them weeks to devise and perfect.
Launching in Covent Garden on 4 October as part of The London Restaurant Festival (4-18 October 2010), Street Kitchen will go on to visit two other landmark London locations finishing at the closing ceremony of the festival in Old Spitalfields Market on 18 October.
Along the way they will be selling a seasonal British menu, serving dishes such as Home Smoked Salmon and Braised Featherblade of Beef. All dishes will cost between £4.50 – £6.50 and from what we tried that's going to be a pretty good deal.
Our Jerusalem artichoke soup with a glossy brioche threatened to be a bit too salty, but after a few spoonfuls it settled down to be a glossy, slippery treat with little cobnuts bobbing about on a breath of thyme. A little bland, as Jerusalem Artichoke tends to be, but still it's bound to be a hit on a chill October night. Of course Jerusalem Artichoke does have gastric side effects though, as I was forcibly reminded the rest of the afternoon.
The vegetarian option of roasted vegetables including butternut squash needed a bit more burning ('caramelising', Mark gently implored) and a slow oven-roasted red onion is still a bloody big bit of onion whatever you do to it and somewhat indigestible as a result. Still it will appeal to veggies and will be better on the night.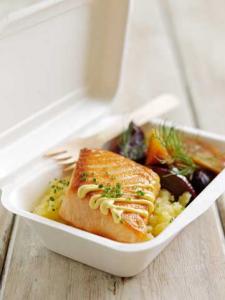 Real stars though were the salmon and the beef. The fish firm and yet still flaky and it was beautifully partnered with beetroot and horseradish. Underneath lurked that old favourite of lightly crushed potatoes, a buttery and comforting base to a brilliant dish.
Featherblade of beef was braised at low temperature for a long time, 'perfect for the mobile kitchen,' Mark explained, 'it only needs finishing in moments before being served'. It was fall apart tender and packed with flavour. Celeriac mash and oven roasted carrots completed a meal you just had to call hearty. This will be a definite winner.
Pudding of an excellent cheesecake hybrid in a transparent bowl which, Mark assured me, is still biodegradable, had a wonderful richness offset by just the tang of cheese. Not as puckering as a New York cheesecake but just enough, and using that great British 'free' ingredient blackberries. 'We hope there'll be enough available come the day,' mused Mark, no doubt thinking of all the hedgerows stripped bare by families with baskets.
'We have no way of knowing how dishes will sell,' Jun said stacking boxes to one side. ' We hope to sell out each night obviously but we will have to see and adjust on the run.'
It's a great idea and an antidote to the pricier London Restaurant week events such as the multi-thousand pound rides in the Eye. Jun and Mark really are bringing food to the street and they should be rolling in customers at each venue they roll into.