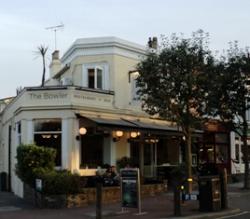 Invited to the sampling of The Bowler's tasting menu, we thought why not, it should be interesting, so we set off on our intrepid journey some five stops or so on the Victoria train to Wandsworth Common, for the event. The Bowler is described as Wandsworths newest gastropub and well, it might be, it is certainly only recently launched having opened its doors to customers back in June.
Set in a great location, overlooking Wandsworth Common, The Bowler has a welcoming exterior, with a fenced terrace that would seat 20 or more people at the front. The exterior – and the interior for that matter – is decorated in a cream 'shaker' style with green highlights, it gives off a cool, fresh, clean and welcoming feel. This new gastropub, is very deceptive from the outside, as you enter there is a good sized bar but, when we said we were there to sample the new tasting menu we were escorted to the main dining area, through a couple of other spaces set out with tables and chairs. The place is huge, and we understand there are already plans afoot to extend the dining area, which looks like it was either a substantial garage/workshop originally, but it could easily have been a coachhouse, there are three sealed sliding doors to one side and I imagine their removal would be pretty straightforward making the task of extending fairly easy.
Anyway, to the event we were seated and the evening commenced. First a glass of Champagne, which is always very welcome as we sipped on that and our sparkling water – un-green people that we are – we perused the menu. It didn't give much away, amuse bouche – foie gras – scallops – risotto – venison – cheese – infusion (dessert) – coffee, but then this was 'work in progress', so I suppose it didn't have to. We were two among about a dozen who had been invited to come and sample the menu with a view to gathering comment and improving it where possible.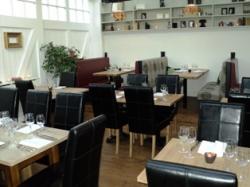 The first dish to arrive, the amuse bouche, was a coffee cup filled with a lovely velvety butternut squash soup, which had been scattered with herbs then topped with a lovely celeriac foam, a very tasty little opener to the meal. The main of venison was a particular favourite, the meat seared to a rare to medium rare state, two good tender medallions of it and to one side a tranche of a venison wellington, that was wrapped in kale rather than pastry, a scattering of nuts and a jus flavoured with a hint of chocolate made up the dish, I loved it and absolutely hope they leave it as it is. The other dishes were all good, but quite rich and substantial, given the number of courses on the tasting menu. There was, for example a substantial foie gras dish, seared scallop with belly pork and crackling sat on a cauliflower puree, again very generous, a big flavoured oxtail risotto and an unusual cheese brulee. As I say all good, but perhaps in need of a little tweaking before the final version of the menu is launched. The dessert was another winner though, a nicely acidic, set lemon curd disc sandwiched between two gallettes topped with a sharp creamy raspberry sorbet, the plate decorated with scattered raspberries and some raspberry and basil coulis, although I wasn't sure about the basil, it was overall a very good dish and again, in my view a keeper.
The Bowler's chef is undoubtedly a talented guy, these dishes were all interesting creations that were beautifully presented, they were just a little large for the purpose and rather rich. I am aware that these comments are being taken on board and the chef will be tweaking recipes and adjusting portions as a result before the menu is rolled out in a few weeks. I would say, to his credit that the standard of cooking was consistently good throughout.
We understand that the tasting menu is intended to be available at £40 per head, which given the quality of ingredients used is an exceptionally good price, you will be able to add to that a flight of drinks to accompany each course. I understand this will include wines, beer for the risotto course (at the moment) as well as cocktails with dessert and coffee. For all this, the customer will pay a further £35 per head, which again I thought was well priced.
Apart from the tasting menu there is, of course an a la carte menu, which contains some standards as well as some imaginative dishes, if the quality of cooking of those dishes is the same as that which we sampled, this place is well worth finding and visiting. Service during the evening was excellent, the staff friendly and helpful, we were impressed by our evening's experience, certainly worth our intrepid journey from Crystal Palace.
The Bowler, 20 Bellevue Road, London SW17 7EB www.the-bowler.com