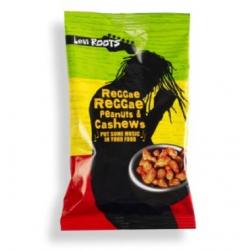 Reggae Reggae fans (and I know there's plenty of us) brace yourselves, there's a brand new way to get your caribbean kicks in the form of the recently launched Reggae Reggae Peanuts & Cashews which are a new addition to Levi Roots' food empire.
Reggae Reggae sauce is in my opinion one of the most addictive condiments on the supermarket shelves. My obsessive phases start innocently enough, perhaps with a splash of sauce on the side of the plate with some grilled chicken and then before I know it I'm adding it to everything I eat. After a week of hitting the Reggae Reggae bottle hard the only way to beat the addiction is to go cold turkey for a few days. The first day is the worst; everything tastes bland and boring but after 48 hours my taste buds tend to go back to normal.
These new Reggae Reggae nuts are a great way to keep the cravings at bay. The ever so moreish Reggae Reggae nuts are oven baked and dressed with the unique flavour of Reggae Reggae seasoning and sauce. They're just that little bit more exciting than regular old salted peanuts and they're quite a handy snack to carry around.
Levi Roots enthuses about this new product in his usual upbeat way by saying 'On the back of the success of my Reggae Reggae sauce, I am delighted to launch my new Reggae Reggae Peanuts & Cashews, a fantastic tasty treat which provides a great way for everyone to enjoy the unique flavour of Reggae Reggae at home or on the go!"
Reggae Reggae Peanuts & Cashews are available at Tesco, Asda and Holland & Barrat from £1.29.