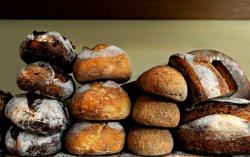 Back in 2005 when Ran Avidan and Tom Molnar created GAIL's, finding good artisan bread in London was not easy. GAIL's decided to change the way people feel and think about bread and make good bread accessible to Londoners by putting their shops in residential neighbourhoods that had a sense of community spirit.
GAIL's would like to create a bread revolution. They want to change the way people think about, feel about and consume bread. They believe that everyone deserves to be treated to delicious bread every day. To make truly 'good' bread you only need flour, water, salt and yeast. You don't need preservatives, artificial colourings, flavourings and all that jazz so GAIL's doesn't use them, preferring to use fresh, natural, healthy ingredients.
Good bread has character and every GAIL's loaf is handmade to its own special recipe. GAIL's breads are seriously 'slow-dough', the most important tool in their bakery is the hands of the bakers. Each baker hand kneads the dough and looks after it while it proves for 48 hours (industrial bread takes less than an hour to prove). Like their bread, each GAIL's shop in handcrafted to be unique and fit into its local environment. Although GAIL's does have a number of stores, they are against the 'chain" mentality where each store looks exactly the same and the people are robots. They want their customers to have relax and enjoy their shops and through this connection feel a sense of community.
GAIL's will be giving out a free loaf of bread with every purchase made in their Battersea shop on 20th March and St John's Wood shop on 27th March.
GAIL's Battersea 64 Northcote Road London SW11 6QL
GAIL's St John's Wood 5 Circus Road London NW8 6NX