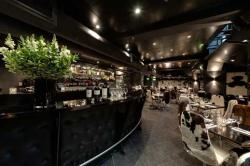 I'd not really recommend a curry on Valentine's night. Yes it will warm you up and add some spice, but come the latter part of the evening you may well find yourself rather regretting it. The next morning even more so. Definitely not first date dining.
However Gaucho, the steak place that was there before most other steak places, have created a special hot menu for Valentine's day at Gaucho City  that won't cause any embarrassment later. Hot but not spicy it gives a warm romantic glow without the usual after effects How do I know? Well I got a preview.
I went with J, who I am fond of but we are not romantically entwined. He's the trusted wingman for lunch adventures and we met in the perma darkness of Gaucho City. It's an underground restaurant in the literal sense and once down there time can pass unheeded. I like that; it reminds me of lost afternoons back in the 90s, it's a penumbra full of possibilities.
The Valentine day menu concept they're putting on is one of increasing heat as you progress and so the amuse bouche of Poblano Chilli Chicken Broth is only slightly prickly, not searing. There's a good fatty slick on the surface, which makes me think nostalgically of my Gran's chicken soup, she was from Eastern European Jewish roots. The poblano chilli, when green as it is here, is a mild chilli and so as a curtain raiser it's muted but promising.
Prawn Ceviche with Green Jalapeno Chilli Vodka gets us both sitting up alertly in our faux animal skin chairs. The prawn has kept all its subtle flavour from being ceviched and the jalapenos are a lot fierier.  A carpet of chopped coriander is laid on top and there is acid twang from lime juice. The vodka is a good carrier of the chilli oils and is far too good to waste, so after regretfully eating the last bit of prawn I used my spare bread to sponge up the last drops. There was a brief period last year when ceviche threatened to be the new burger, bored on about by everyone, luckily the moment passed but ceviche is still a great way to'cook'.
Gaucho is of course all about the steak and so here it comes as the main event. The piquin chilli Churrasco de Cuadril, a spiral cut and marinated sirloin. it's an Argentinean speciality in a restaurant that already makes a speciality of steak. It's cooked, as steaks always are here, perfectly but it has the added lustre of being dusted with slivers of fresh red Piquin chilli. This is a hot chilli, around 14 times hotter than Jalapeno but it's been laid on here with some care to keep the beast within bounds.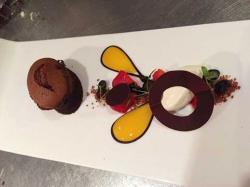 Personally I could have taken it a bit hotter but the slight citrus of the pepper comes through and serves to point up the perfection of the steak. I could fall in love over this kind of steak and I reckon a lot of people will do that this weekend. Lettuce and toasted almonds with mayonnaise vinaigrette is just one of those rare salads you could cheerfully eat a great deal of and Humita Saltena served in a corn husk with roasted pumpkin and sweetcorn is okay but too sweet for me.
A quick'palate cleanser' is a bit of a palate roaster by being pretty damn chilli hot. The Vodka and Ancho chilli water ice does though get me back up from the meaty steak induced slump I'd fallen into to make me ready for dessert.
Dark Chocolate fondant and Mulato Chilli Vodka Infused Sultanas is actually the hottest dish of the lot, but chocolate and chilli do have a strange affinity, a marriage made in South America. And the chocolate is gorgeously gooey and will melt most women's hearts, if I may be allowed a little cheap gender stereotyping at this point.
There's going to be a lot of restaurants vying for your romantic pounds this Friday, but if you want to be virtually guaranteed a solid experience from professionals and in a glam environment, I reckon Gaucho City's special hot menu is a cool choice.
Gaucho's full Valentine's week offers
–          Monday 10th – Chilli and chocolate; the perfect partnership. Enjoy chilli hot chocolate and chilli chocolate truffles when you dine with us during chilli week
–          Tuesday 11th – Chilli ceviche master class  – £20 per person
–          Wednesday 12th – Chilli infused cocktail master class – £15 per person
–          Thursday 13th – Chilli marinated cuadril steak dinner. Gaucho's master griller Fernando Larroude will be hosting a beef master class where you can enjoy our lomito picante cuadril steak infused with chilli accompanied by sides and a glass of Malbec –  £30 per person
–          Saturday 15th – Celebrating all things hot and spicy with a 5 course culinary adventure
Gaucho City . 1 Bell Inn Yard, London EC3V 0BL 020 7626 5180