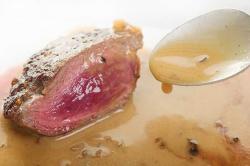 Taylor & Colledge, the vanilla experts, have created a menu that promises to heighten the senses this Valentine's Day.
Sourced from the vanilla orchid, vanilla has been regarded as an aphrodisiac since the time of the Aztecs, while in the 1800s Dr John King advised in the American Dispensatory that one should use vanilla to "stimulate the sexual propensities".
More recently, a study conducted at Chicago's Smell and Taste Treatment and Research Foundation found that, of all the smells tested, men were most aroused by the scent of vanilla, helping to explain why it is so commonly found in perfumes.
Vanilla is also a very special spice as is incredibly difficult to harvest, making it the world's second most expensive spice after saffron.
So it's only fitting that Valentine's Day should contain a little vanilla, and Taylor & Colledge's special menu featuring two vanilla recipes – a delicious main course and sumptuous dessert.
Taylor & Colledge products are available nationwide through branches of Waitrose, and online at www.ocado.com
Pan Seared Valentine's Steak with a Vanilla Peppercorn Sauce
This easy-to-prepare dish is perfect for a romantic night in for two.
Ingredients:
2 Fillet Steaks
Salt & Pepper to taste
For the Vanilla Peppercorn Sauce:
1 cup of Beef Stock
½ glass of Red Wine
2 tbsp cream
Rapeseed Oil
1 tbspn Taylor & Colledge Vanilla Extract
½ tbspn Green Peppercorns
½ tbspn Butter
½ tspn diced shallots
½ tspn crushed garlic
1 tspn chopped parsley
Salt and Pepper to taste
Method:
Season the steaks with salt and pepper and sear in oil until both sides are lightly brown. Remove the steaks and finish under a warming grill until they are done as desired.
Remove the excess oil from the pan and sauté the shallots and garlic for 1 minute. Deglaze the pan with the red wine, simmer and reduce the volume by half.
Add the stock, peppercorns and vanilla. Let the wine reduce on medium high heat for 8–10 minutes.
Slowly add the cream and simmer until the consistency of the sauce has become slightly thicker.
Finish the sauce by slowly adding the butter and adjust the seasoning with salt & pepper.
Serve over the steak.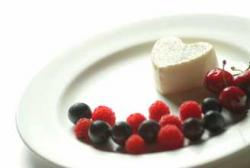 Vanilla Panacotta with Valentine's Berries
Easy to prepare, this sensuous dessert will tingle your Valentine's taste buds. Just remember to make it the day before the big event!
Makes up to four servings:
Ingredients:
½ tspn Queen Black Label Vanilla Extract
¾ tspn gelatin, softened and dissolved in 1 tbsp warm water
2 tbspn caster sugar
100ml milk
150ml thickened cream
Valentine's berries – raspberries, blueberries, cherries
Method:
Combine cream, milk and sugar in saucepan. Cook over low heat, stirring constantly to almost boiling point. Remove from heat, cool 10 minutes and add Queen Concentrated Vanilla Extract.
Add dissolved gelatin to warmed cream and stir with wooden spoon until well blended. Pour into small (well oiled) heart moulds and set in the fridge overnight.