I love you baby, and if it's quite alright I need you baaaay-bee to book a table at a nice restaurant with a couple of days' notice. No pressure then.
For millions Valentine's Day is the one day a year when every sentiment, no matter how schmaltzy-but-true is encouraged. Roses, presents, cards, chocolates, it's all fair game on the most wonderfully romantic day of the year. Yeah, those things are nice and all, but what is V Day without a slap up meal with your one and only? There's an awful lot of choice in London, so we've narrowed it down to the capital's most distinct districts: The City, West End, West London, North London, Bankside/South London and out in the country. Swing down the lane with us as we blush our way through every menu worth knowing between Kensington and Shad Thames.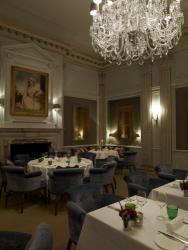 Out in the Country
Bridget Jones said it best: "A mini-break means true love." Hugh Granted, she said it while contemplating life with the King of the Secret Babies/Daniel Cleaver, but a weekend away is always a good call if you're looking to spend some quality time together. Plus, a spontanious trip away is a real shot in the arm if all the tube strike drama is getting you down, so escape to the country in general and Cliveden in particular. Only 40 minutes by train (the most romantic form of transportation unless you and Poirot are carriage buddies on the Orient Express,) you can be there by mid morning and take a relaxing (though most likely windswept) stroll through the grounds before settling down to champagne afternoon tea in the Great Hall or the the Library. Afternoon Tea is £29.50 and £44 with Champagne.
West End
When it comes to restaurants, things to do and unbelievable old fashioned romance, London's West End has it all and then some.
For classic Italian, Marylebone's Briciole is laying on a special set menu, with dishes including Black squid-ink tagliolini with crab, and green and red chilli for £12.50; Grilled Sirloin beef served with roasted Belgium endive and black truffle coming in at £18.50; and White chocolate mousse with passion fruit sauce for £5.50.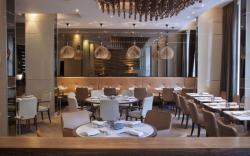 Fellow Marylebone eatery Sixtyone will be all about the choc this V-day, withPastry Chef John Grantham's Chocolate tasting menu (three dishes at £12) available on The Big Day only. Dishes include pistachio, cinnamon, griotine, panna cotta; Milk chocolate banana, jasmin charlotte; and Green tea, lychee, and white chocolate tart for your sweet like chocolate boy (or girl). 
The Rosewood Hotel's restaurantThe Mirror Room is offering a seven-course tasting menu for £85, with champagne and canapés to start. Dishes include roasted diver scallop with cauliflower and blood orange; dover sole with mushroom, truffle and crayfish; and chocolate and passion fruit Millefeuille. They also have a vegetarian menu for the same price, with dishes such as celeriac 'sashimi' with roasted celeriac ponzu; and cauliflower and cheese ravioli, making it a good choice if you are as passionate about animal rights as you are about each other.
To really take home those brownie points, head to Michelin-starred Alyn Williams at the Westbury were £90 will get you a seven-course menu specially designed by the head chef for the loving-est day of the year. Dishes include dived scallops with Datterini tomato, monks beard and salted ricotta; poached and roasted guinea fowl with white onion angolotti and an apple and kohlrabi salad; rib of Galloway beef, salsify and a broccoli custard; capellini with truffles and parsley; and a apple tarte tatin with vanilla ice cream for two – a good one for sharers.The Valentine's menu costs £90 per person and will be available for two dinner sittings on 14th and 15th February, the first from 5:30-9pm and the second from 9pm onwards, so quite handy if you had to work late and need to make it up to your beloved +1!
Wrapping up the best of the West End, brunch specialists The Riding House Café have decided sharing is caring this year and have come up with set sharing menus. Just make sure you can share in the first place.
The City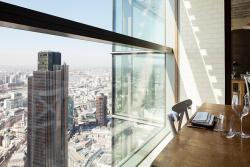 If you find yourself 40 floors up Heron Tower, be sure to check out Duck & Waffle's tasting menu. Devised by chefDaniel Doherty, the tasting menu is £85 and includes a glass of Veuve Clicquot Rosé. The menu includes Irish rock oysters with smoked vodka compressed cucumber, pickled apple and horseradish; foie gras crème brûlée, butter roasted scottish lobster and brioche; whole baked seabass, Cornish clam and trompette chowder and caviar butter; chocolate fondant with white chocolate sorbet and almond-praline crisp.
If the 40th floor is a tad too high, head downstairs to the 38th-39th to where pan-Pacific meets South America; SUSHISAMBA.  Claudio Cardoso has created a Valentine's Day sharing menu, which is £95 per person including a glass of Veuve Clicquot Rosé. There will be 11 sharing dishes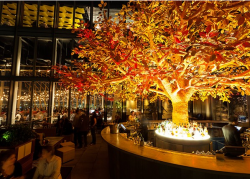 including scallop tiradito passion fruit, ponzu, tobiko, leek; Lobster Gyoza grilled pineapple, ginger aji amarillo, cashew nuts; Wagyu Tataki foie gras, aji panca, fried quail egg; São Paulo scallop, masago, red onion, tuna, salmon, shrimp, white fish, avocado, truffle, hatcho miso soy, chive oil; and yuzu meringue tart raspberry jelly, and champagne granité.
David Philpot, head chef at Paternoster Chop House has devised a sharing platter for you and your sweetie. Dishes include a British cured meat board to start, Whole brill with braised fennel, sea vegetables and clams for the main, and a Dark chocolate and black cherry fondant for dessert. As well as this, the bar team have concocted a selection of "sexy" cocktails including a Passion Martini (hibiscus-infused gin, passion fruit liquor and lemon juice), Strawberry Kiss (Ameretto, white rum, pureed strawberries and cream) and Love at First Sight (elderflower liqueur, Absolut citron, fresh strawberries and prosecco)
Nestled on the cosy mezzanine level of historic Royal Exchange is French restaurant Sauterelle. For Valentine's Day, the restaurant will be serving a six-course candle-lit dinner created by head chef Arnaud Delauny. Featuring dishes such as Poached rock oysters with pomegranate and curry foam,Lamb cooked three ways with braised coco beans, smoked aubergine and salsa verde, and Coconut pannacotta with poached Clementine and a pistachio crumble. Fancy. Guests will receive a complimentary glass of champagne on arrival and coffee and petit fours to finish. Ooh la la.
North
Serving a fancy  five course Valentine's menu, French restaurant Almeida is a good destination for those planning a trip to the theatre this Friday 14th February (on that note, click here for last min theatre deals!) Located opposite Almeida Theatre in Islington, the restaurant will be serving its set menu from 7.30pm. At £65 per person, the menu includes dishes such as Oyster gratin with champagne sabayon, Herb-crusted sea bass with tomato confit, fennel and pesto and a Trio of desserts to share including chocolate and raspberry fondant, passion fruit tart and roasted banana croustillant. Ooh er.
For those more fancy free, raucous Camden funhouse The Blues Kitchen salute you soulful standalone single sistas in a Live Soul Sisters night with classics from Aretha Franklin, Etta James, Roberta Flack and more. Willingness to sing along needed, sense of humour essential.
South   
Sounding a little bit like an artificial intelligence system that could one day destroy us all, Skylon, a British restaurant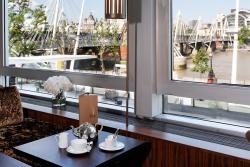 located on the corner of the Royal Festival Hall are putting on a candle-lit menu designed by Executive head chef Adam Gray. Guests can enjoy a complimentary glass of champers before going on to the six-course tasting menu, which also had a veggie option. Dishes include pan-fried scallops, globe artichoke cream and truffle dressing,Glazed Creedy Carver duck breast with chestnut and braised leg pie, parsnip cream and Madeira duck gravy, and Iced passion fruit mousse with caramelised pineapple and passion fruit sauce.
Further down the Thames,riverside restaurant Le Pont de la Tour will be offering a French dinneron Valentine's night overlooking the romantic backdrop of Tower Bridge and the river Thames. Executive head chef Tom Cook has designed a four course menu including dishes such as ½ dozen rock oysters, Baked hand-dived scallops with boudin noir and white bean veloute, Aged fillet of beef to share and a Dark chocolate pave with blackberrt parfait and cherry sorbet for £75. An a la carte menu will also be available, and sommelier Antoine Dugand will be on hand to pair a selection of wine and champagne from the restaurant's award-winning list.
Make like an Italian Stallion at Cantina del Ponte, where guests can enjoy dinner at the opera this Valentine's Day. Serving a rustic three course Italian menu, guests can sit back and enjoy the accompaniment of the restaurant's professional opera singers while looking out across the river Thames and Tower Bridge. Serving a complimentary glass of prosecco on arrival, the menu features dishes such as classic Beef carpaccio with rocket and Parmesan, Yellowfin tuna steak with aromatic herbs and vegetables and Raspberry semi freddo. Viking helmet not included.
And finally, if you fancy a more conventional aphrodisiac (don't mention the lower horn!) Wright Brothers in Borough Market have a romantic menu of oysters and champagne at a more affordable budget.
West
If you're in the neighbourhood, stop by fish brasserie  Kensington Place, where head chef Dan Loftin has created the ultimate sharing seafood platter. Paired with a bottle of champagne, couples can unwind and share the Fruit de Mer for £90 per person on Thursday 13th, Friday 14th or Saturday 15th February. Hopefully this'll be playing in the background.
And now for something completely different…if you are one of those BURGERS, YEAH! BEARDS YEAH! BACON, YEAH! Types, this V-day you canswap chick flicks, candlelit dinners, and chocolate fountains for pints, pool, and banter this Valentine's Day with a night of bromance at the Cadogan Arms. The King's Road gastropub has reserved its upstairs Billiards Room for those looking to escape the schmaltz and kick back with their mates.
For £15 per person you can play pool for one hour while swigging a bottled beer and tucking into dude food in the form of three juicy sliders.