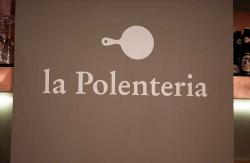 Is polenta the least known Italian food in the UK? Sure we love our pasta, we pack away pizzas and we aren't averse to a bit of risotto, but mention polenta to many a Brit and you'll basically get a blank look.
Cornmeal that's boiled into a kind of porridge and then eaten directly or baked, fried or grilled, (crostini di polenta or polenta fritta), polenta has in some version or another, been around since the Roman times.
It's not exactly fast food though Traditionally it's mixed with water and then cooked for around forty five minutes to gelatinise the starch, ideally in a copper bowl over a wood fire.
The copper is important as it's a metal that spreads heat evenly, while the wood fire is perhaps more romantic than strictly necessary, although some of that gorgeous wood smoke aroma does of course seep in. Italian chefs also insist that you have to stir ceaselessly to keep the polenta from forming lumps.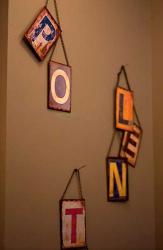 Giancarlo Caldesi of Cafe Caldesi although fiercely Italian, is slightly ambivalent about polenta,'You ask an Italian about it and they will go misty eyed,' he says 'and they'll remember their grandmothers stirring it in the  copper pan over the heat, hot splashes landing on their arms and the taste was like no other.'
But at the same time he knows it's not universally adored across Italy.'It's a good source of carbohydrate, but not one of our favourite things to use at Cafe Caldesi unless we are doing a particular food from an area where they eat polenta. I like it flavoured with Parmesan or rosemary. I am, I admit, liking it more since visiting Venice, where they are big polenta eaters, while researching our new book'.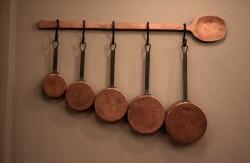 Polenta's laborious cooking process also makes it something that many home chefs don't have the time or the inclination for. I find filling a pint glass with wine, and alternating hands for stirring and drinking,  does at least help the long minutes pass even if at the end of the cooking time I need a little lie down.
There is an alternative; fast cook polenta made from processed cornmeal, but like most things that have been shortcutted this kind of polenta rarely tastes as good or has the same seductive silky texture. Some people even claim polenta can be made in a microwave, an idea which will send food purists into a lather of indignation.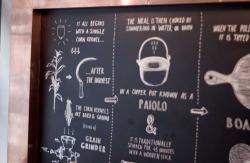 Food Yoda Gareth Jones of In Search of Taste, a man who is fierce about provenance and authenticity, grumbles benignly'You'll make polenta once maybe twice a year, so why shortcut and have plates of an ersatz porridge that'll disappoint all who sit at your table? Best for me is a creamy, soupy polenta made with mountain cheeses like Asiago and Fontina – serve this with the morning's fresh gathered porcini and I'm in Heaven – or at least that cheap roadside stop somewhere above Bergamo.'
Chef Theo Randall, of The Intercontinental one of Londod's premier Italan restaurants, sees a future for polenta in the UK. 'We do have it on the menu,'he says 'and I think people are ordering it a lot more than they used to especially when truffles are grated on top. We do a dish with wet polenta, pan fried Scallops sage anchovy chilli and braised cima di rape which is always very popular. I think the Brits are finally coming round to it.',
There is also a large expat Italian population in London desperate for a reliable polenta fix and most of them seemed crammed into La Polenteria when I visited recently. This new cafe/diner created by Cristina Sparcaci on Old Compton Street is London's only restaurant dedicated to the grain and it's a lively room with cheerful decorations and a polenta cooker down the stairs.  Tables are small, but the idea is to recreate that crowded family kitchen where polenta is shared.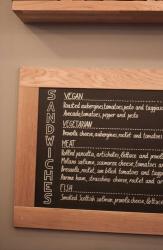 'I felt London was the best place to try something new like Polenteria,'said Cristina,'and Soho the place to ease it in. In Italy it's seen as a fast food because it's cooking all the time and can be served almost instantly and it's popular on university campuses as a tasty filling meal. But in the average Italian restaurant it has to be cooked to order and that takes too much time for most diners so it's not often on menus. Here we are only serving polenta so it's fast to table.'
She's not kidding, there is no other choice but polenta –  a fact reminiscent of Monty Python's Spam sketch. I had a starter of polenta moulded and layered with tomatoes and rosemary which was light, fresh and full of flavour, the polenta firm to deliver real bite.
A second course of boar ragu was on looser polenta, splatted onto the plate (polenta will not win any prizes for presentation) and it showed what polenta does so well – carry a sauce without overly intruding on it and delivering hunger-satisfying bulk. The ragu was deeply flavoured with a rich intensity that only comes from slow, careful cooking and reduction. The longer, the better.
I also tried Baccala'alla Vicentina, a classic salt cod dish on polenta that was a bit too fishy for my wussy tolerance, but which was cheerfully eaten by my wingman. Other choices included polenta with Sicilian caponata and Tuscan sausages with borlotti beans. The polenta obsession extends into desserts and sandwiches too and even breakfast polenta dishes such as polenta muffins and creamy polenta with blueberry maple Syrup.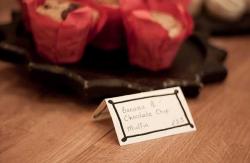 'Polenteria is of course a restaurant for everyone,' Cristina adds,'but because polenta is naturally gluten-free, we're a great option for the gluten intolerant and vegetarians too.' It's worth pointing that not all polenta is gluten-free, but the polenta served at Polenteria is checked and certified.
So go against the grain and pop down to La Polenteria for something different for lunch or dinner this week.