32 Orange Street (off Leicester Square), London, WC2H 7HQ saltnpepperuk.com
Salt'n Pepper is a new outpost of a chain that has done very well in Pakistan for thirty years, the menu is said to be'authentic' but I can't comment on that, best ask a Pakistani what he or she thinks. It's not fine dining, and obviously it isn't Indian, except in the rather lazy generic sense.
The restaurant has taken up residence on the ground floor of some kind of office block, but has made a virtue of necessity by styling itself appropriately. The air conditioning pipes and other skeletal elements are on display, which is a bit old hat design-wise but so are de-plastered walls and those ubiquitous orange filament lamps everyone is so into. It's not unpleasant the styling, functional and informal is probably the best way to describe it.
Once you stop humming the old Salt n Pepa chart hit (it's almost impossible not to if you're a certain age) and look at the menu a few things stand out. A good thing is'on the bone'. Yes, yes, yes. It may be a bit fiddly but meat on the bone is how grown ups eat. That's flavour country. Somewhat dispiriting is the sight of a chicken cheeseburger, but I suppose even Pakistan is not immune to the American disease.
Spiced poppadoms came rolled into cones. This looked attractive but practically speaking proved not to be such a good idea as it was impossible to break off sizeable, chutney-carrying, pieces. I did think about sticking the pointed end in my mouth and spooning the excellent mint chutney in from the top, as if stuffing myself like a foie gras duck. I decided I'd need to neck down a few pints of lager first though.
BBQ lamb chops were well crusted, perfectly pink in the centre, almost as good as the ones I've eaten in my local Lahore, which is high praise. The slippery sweet caramelised onions were more than a garnish and I found myself greedily gathering them up with my fingers.
K's butterfly garlic prawns in a lemon and coriander butter were moist and moreish, and still in their halves of shell protecting the tender meat from the raw flame and letting them cook without losing moisture. He liked them and he knows a bit about prawns, he's been known to eat an entire Prawn Ring on his own.
The nans were rather disappointing, the roghani and the garlic both as flat and as hard as a ship's biscuit. My feeling was they had never seen the inside of a tandoor oven, but had perhaps been either baked or pan-fried. If someone tells me that they were in fact authentic, with documentary evidence, I will revise my opinion.
The karahi gosht was full of tender lamb pieces, on the bone as advertised, and with a depth of flavour all the more noticeable for not being buried in excess heat. The karahi is of course a style of cooking, a wok-like pan, and this dish is simple home stuff with only relatively few ingredients ginger, garlic, peppers and tomato. Nothing wrong with that.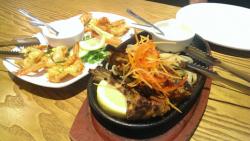 K had the fish curry under some protest'I don't like bones,' he wailed but the waiter, a man with the patience of a saint, assured him he would find none. And he didn't. A hard man to please with a curry, he was actually very complimentary about the quality of the fish and the rich masala gravy, while agreeing with me about the non-nans that had no mopping power at all.
We both found the basmati properly done, pre-soaked to create the witches' fingers that distinguishes good rice from poor, and with a vestige of chewiness, while the daal chana clearly made from dried and not tinned chickpeas, was fluffy and colourfully spiced. If I were a vegetarian I'd order a big bowl and make it my main course.
Desserts, normally something I skip in the average curry house, were actually more than merely good and instead memorable. Dal Halwa was three quenelles that were rough textured, earthy, sweet and nicer than any dessert made with lentils deserves to be, while Matkao Kulfi was a rich, unctuous concoction of saffron, pistachio and almonds.
We should have drunk lassi or Shikanjabeen, Pakistani lemonade, but instead we were truly traditional and had lager. Salt n Pepper is a useful place to know if you don't want to be ripped off in Leicester Square and just want an honest'Indian' with a lot more than a'curry house' can deliver.