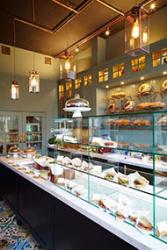 London is facing a gastronomic crisis. Throughout the capital, hungry office workers are being forced to visit the same tired lunchtime chains serving cardboard sandwiches and dry, limp salads, washed down with calorie bomb imitation coffee.
The situation is dire, and reports abound that the anger of the quality-starved masses may result in rioting and widespread public disorder. Cars will be overturned, wheelie bins put through shop windows, and offices set on fire.
Something has to be done, and now the capital may finally have a saviour – Souli. Founded by Hella Souli in Marylebone's George Street a few months ago, Souli is a cafeteria that takes lunch hour dining to another level.
What level? Consider that all of the meat Souli uses in its sandwiches is marinated and roasted on site. The vegetables for salads and sandwiches as well as the quinoa is also cooked on site, as are the soups.
The bread comes from an artisanal French bakery just down the road, and all the food is expertly prepared by the chef right in front of you. Even the coffee is special. It's the only place in London you can get Sant'Eustachio coffee, eponymously named after the best coffee shop in Rome.
We were lucky enough to be invited to Souli to sample the gourmet food and fine coffee. The shop itself is spacious and beautiful. With its turquoise-painted woodwork, filament lamps and copper hardware, it has a warm, inviting, country pub feel. Everything is proudly on display; when you know you're putting in the effort there really is nothing to hide.
The roasted butternut squash soup's consistency is a wonderful, thick puree, rich in flavour, and the garlic croutons taste fantastic and add some additional texture. N's porchetta sandwich with a fig chutney is also great tasting with delicious chutney, though he thinks that either more meat or less chutney would have struck a better balance.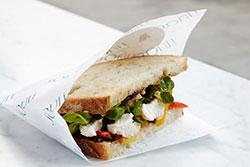 A marinated goats' cheese, red pepper and caramelised onion sandwich for me is excellent, the cheese rich and the caramelised onion full of flavour and with much needed moisture to bring the whole thing together.
I don't think there's a single food product in which there's as great a difference between the good and the dire as there is with bread. Bad bread will ruin a sandwich no matter how good the fillings, and the artisanal loafs from which Souli's are made out of really do their job.
We also try some salads, though the highlight was definitely the quinoa salad with lettuce, cashew nuts and dried cranberries, the quinoa cooked fresh while we ate our sandwiches. It was worth the wait as it's cooked perfectly, with the nuts giving a satisfying crunch and the cranberries soft and chewy and adding a nice moisture.
To finish, the Sant'Eustachio coffee is simply wonderful. I don't drink much of the stuff unless I'm driving long distance, precisely because 99% of the nation's offerings are so dire, but this is sublime. Hella tells us that the Sant'Eustachio staff travelled from Rome in order to show Souli how to make their coffee properly; an act of impressive dedication.
With such great quality comes a greater price, with sandwiches just under £6 and salads and coffee priced accordingly. It's a few quid more than the offerings of high street chains such as Pret a Manger, and entirely fair. In each case, you're getting what you pay for. From our visit it seems the current clientele consists of Marylebone's yummy mummies and local office workers.
Is Souli just the thing to revitalise the capital's lunchtime offerings (stopping mass chaos and rioting in the process)? I certainly think so, and if you work in the area or find yourself there anytime soon, you should go. Coffee geeks may even find it worth the pilgrimage for the Sant'Eustachio alone. Here's to a bright future for this well conceived, upmarket spot.
17 George St, Marylebone, London W1U 3QN
Souli is open from 7am-5pm Monday to Friday
Follow Souli on Twitter @soulifood