Unit 1026, Westfield London, Ariel Way, W12 7SL  www.themeatco.com
There's nothing like a good steak. It is the epitome of masculine foodstuffs, as manly as Jason Statham and Arnold Schwarzenegger going through a pile of baddies whilst drinking pure petrol and injecting testosterone, to a soundtrack of machine gun chatter and explosions.
I jest of course, but only slightly. In my quest to satisfy my masculine cravings, I headed down to Shepherds Bush, where the first and only branch of South Africa's The Meat Co. is located in the outside section of Westfield shopping centre. My trip to this mecca of carnivorism was in honour of Westfield's We Are Dining campaign, which aims to get greater numbers of people through the doors of Westfield's eateries by offering numerous great deals and offers.
From the outset, it's clear that money has been spent. The high ceilinged room is lavishly decorated, with the red accents functioning to remind you of the lovely, juicy, bloody meat you're about to indulge in. There are towering displays of wine bottles in glass cabinets that stretch high up to the ceiling, vast and imposing. The focal point is an open plan kitchen where the chefs calmly and quietly put the finishing touches to the expertly presented plates of food.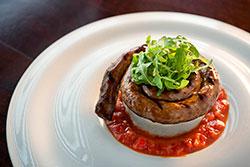 A starter of boerewors (that's spicy sausage to you and me) is served in a neat stack with the other components of the dish – chakalaka sauce, lightly fried polenta and rocket. Chakalaka is always made milder in this country to not overpower British tastebuds, though this one retains a gentle, tomatey spice. The polenta cake is light, airy and piping hot, the boerewors itself is delicious and the rocket adds some nice dry texture and a bit of pepperiness. Just the thing to get the tastebuds tingling before the main event.
My companion's salt and pepper calamari with a nam jim sauce is presented with equal finesse and care, and despite lacking a good amount of the aforementioned salt and pepper which he supplements himself, is another solid starter.
So far, so good but we didn't come here for sausage and squid. The steak section of the menu is either a baffling list of gibberish or a meat lover's paradise, depending on whether you're a casual meat eater or an expertly informed connoisseur. A smorgasbord of cuts, breeds and weights are on offer, but thankfully our waiter knows his stuff and is able to calmly guide us through the process of choosing.
We each go for a rib eye, mine on the bone and his sans bone though'Super Aged'. What separates The Meat Co. from other steak houses is that the steaks are basted in their own home made glaze before being cooked. It's a dark, sticky concoction coating the surface of the meat, rich in umami and savoury in taste.
It's an interesting concept. I'm not sure it adds anything to the meat but nor does it take anything away. There's nothing wrong with simply seasoning a good piece of meat and letting the quality speak for itself, though it's interesting to try something different every now and then. Both of ours were accurately cooked, which is the most important thing.
Our sides exuded a similar level of care and attention. The onion rings are the best I have tasted; more like rough, authentic shards of very lightly battered onion than the perfectly round, soggy, doughy, E-number filled cousin you'd find at your local fast food restaurant. Assorted greens are lovely, as is the asparagus, cooked perfectly, blanched then lightly grilled I imagine.
Crème brûlée, nicely flavoured with vanilla, is a lovely way to finish, served with a scoop of strawberry sorbet on a base of shortbread. My companion also enjoys his chocolate fondant, which is rich and gooey on the inside and nice and firm on the outside.
The Meat Co. is a polished restaurant. The food is solid and well-presented, staff are warm and well informed and the decor is plush and indulgent. We didn't drink, but both red and white wine starts at an accessible under £20 a bottle.
The only curious thing is the pricing of its steaks, which appears to be out of line with the rest of the menu. Starters and desserts are under £10, most mains are under £20. If you want a decently sized portion of steak, however, you'll be paying £50-60, which seems like quite a stretch. I daresay they're trying to make a point there about the calibre of their meat. If you can get over the statement pricing though, The Meat Co. provides one hell of a manly meal in some very nice surroundings.