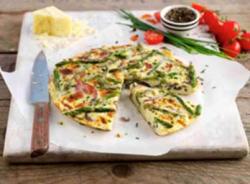 Michelin Starred Chef, Nathan Outlaw delivers some tasty treats with Davistow cheese. The Davidstow creamery has been making cheddar for sixty years. Built on what was once a wartime aerodrome, it sits in rich dairy country. Over 400 local farmers supply them with the milk needed to give the award-winning cheddar its distinctive creamy character. Preparation time: 10 mins
Cooking time: 10 mins
Serves 4
1 tbsp sunflower oil
15g butter
2 small red onions, sliced
100g asparagus tips, cut into
2.5cm lengths
6 large free range eggs plus 1
egg yolk
salt and freshly ground black
pepper
3 tbsp creme fraiche
2 tsp snipped fresh chives
75g Davidstow Extra Mature Cheddar, grated
Method
1. Heat the oil and butter in a medium, non-stick frying pan, add the onions and sauté for 3-4 mins until softened. Meanwhile blanch the asparagus in boiling water for 2 mins, drain and refresh in cold water.
2. In a jug, beat the six whole eggs together with plenty of seasoning. Pour the eggs into the pan with the onions and stir with a spatula until nearly set. Remove from the heat and shake the pan to level the mixture.
3. Beat the creme fraiche, egg yolk and chives together. Scatter the drained asparagus over the omelette, then the creme fraiche mix, followed by the cheese. Pop under a hot grill for a couple of minutes until golden brown and bubbling. Serve warm or cold in wedges with salad.