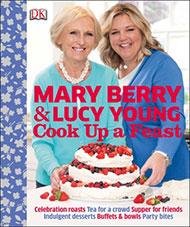 You will doubtless know about Mary Berry from the Great British Bake Off, but it certainly isn't only baking that she's good at, as this book shows, even if there is some baking in it. Together with her long-time collaborator Lucy Young, Berry takes the stress out of cooking for a crowd.
There is a solid section guiding you through what it takes to cook for large numbers of people, from exactly how to plan a high-volume meal, to an FAQ about cooking for large numbers, and handy little tips and tricks to ensure you get it right.
The book covers party bites, the standard assortment of starters, mains and desserts, as well as barbeque grub and a handy section on menu planning which gives you perfectly complementary combinations of courses to cook, along with the drinks you should serve with them.
Each of the main recipes has quantities listed for either six or 12 people; the rationale escapes me as even somebody with maths as woeful as mine can double quantities without difficulty. Still, it's nice to know that the book isn't just superficially about cooking for a crowd and is really aimed at fulfilling this requirement.
To make it even better in this sense, every recipe has tips on what you can make ahead, and how many days in advance you can make it before your guests start to figure out that there's something fishy about the lasagne you've served.
More satisfyingly still, the recipes are all simple, easy and fool proof, requiring none of the faffing around with travelling to specialist shops to buy a spice you'll use on one occasion only as some more complex books do.
We love the fillet of beef with beetroot and horseradish dressing, a classic match made in heaven with rocket and parmesan. A great, simple, crowd pleasing starter. Salmon and asparagus with a basil sauce is delicious and very cheeky, the basil sauce simply being double cream, lemon and pesto heated together.
Duck breasts with a piquant lime and ginger sauce are visually impressive if presented with a modicum of care, and taste just as good. The same applies for the poached pears with a blackberry sauce and the rest of the decadent desserts.
Looking for a gourmet cookbook? Look elsewhere. But if you're after a foolproof, simple tome on how to wow the crowd with easy recipes, this book is the one.
{ISBN:1405344458}