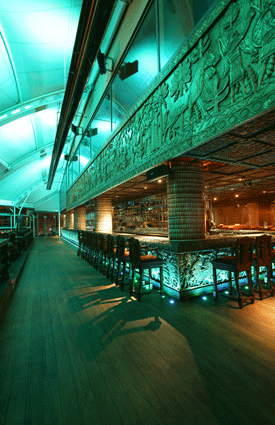 Acclaimed Head Chef Ian Pengelley is proud to unveil an Asian black rice menu at Gilgamesh this spring. Ian has created a menu of five eclectic dishes all incorporating black rice, and ranging from sushi to tempura.
Black rice is wildly cultivated across Asia, with Korean black rice often the most popular for its slightly nutty flavour. It contains more nutrients than both white and brown rice and also has high levels of the antioxidant anthocyanin. Black rice has been scientifically proven to lower cholesterol. It also does not contain the high levels of bran found in brown rice so can be ideal for those following a diet low in carbohydrates. Whilst it is not necessary for most people to follow a low carb diet, Ian's alternative offers a healthier approach.
Ian's exotic menu consists of Black Rice Risotto with King Crab, Yuzu, Truffle and Bonito, Stir Fried Black Rice with Chinese Sausage, Prawn and Egg, Black Rice Sushi Roll with Pickled Daikon, Sweet Tofu and Spicy Toro, Tempura of Warm Chilean Sea Bass Nigiri, Black Sticky Rice with Chicken, Salted Duck Egg and Barbequed Pork wrapped in Bamboo Leaf.
Black rice sushi may well be one of the most interesting and healthy food trends of 2009.
GILGAMESH
Camden View
Camden Stables Market
Chalk Farm Road
London NW1 8AH
020 7 482 5757
Open seven days a week from 11am until late.