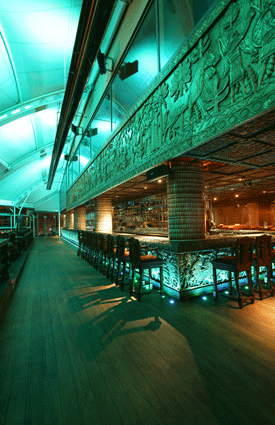 This summer critically acclaimed Pan-Asian restaurant Gilgamesh will open a food market on Monday nights within an area of the vast venue from the end of this month.
For Monday nights only the glamorous Babylon Lounge will be transformed into a vibrant food market reminiscent of the authentic hawker markets found in so many Asian countries. Chinese lanterns will be festooned throughout and diners will be able to move from stall to stall, sampling all the wonders of Pan-Asian cuisine. For thousands of years markets have provided a meeting place in many Asian countries and still play a fundamental role in their communal approach to eating, where they share benches and tables in order to eat their food and with different stalls crammed into every available nook and cranny.
All dishes will be priced at an extremely reasonable £3 and diners will be able to browse different stalls, which offer various delights.
Some examples include the Dim Sum Trolley, which will offer dishes such as Garlic Chive Mushroom Dumplings and Prawn Har Gau, a Noodles Stall, which will serve Malay Noodles with tofu, vegetables and egg. There will also be a Peking Duck Stall serving crispy roast duck pancakes and a Curry Stall, which will serve a selection of dishes including Thai Red Vegetarian Curry with sweet potato, aubergine and Thai basil. Finally, diners can stop off at the Sushi Maki Roll Station to enjoy Salmon and Avocado Rolls and Californian Vegetarian Inside-Out Rolls.
Cheer up your Monday night and head down to the Gilgamesh Hawkers Market.
GILGAMESH
Camden View
Camden Stables Market
Chalk Farm Road
London NW1 8AH
020 7 482 5757
Open seven days a week from 11am until late.