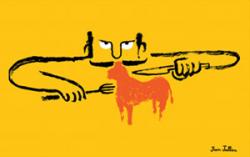 This year it seems that November truly is the month of moustaches, with Movember popping up all over the place. Moustaches in general are everywhere at the moment. Where once clean shaven and preppy was de rigeur, now it's all about the Mo.
Byron was an early adopter of Movember mania, and have continued their support this year. As well as giving away a free burger everyday to anybody who raises £25 or more for Movember (A decision that seems as good for the charity as it does bad for the waistline) they've also teamed up with T.V chef Gizzi Erskine to launch the Gizz-mo, a burger with a welsh rarebit topping. We went along to see if it tasted as good as it sounded.
Perhaps too much debate rages on twitter regarding burgers and various burger joints, with questions such as "was it medium rare?", "what's the bun like?" the lifeblood of the burger bore. Whilst personal tastes vary, the cardinal sin is always an overcooked burger. Thankfully this was not the case when we bit in to the perfectly medium rare meat, with the standard Byron bun providing its usual quality.
The Welsh rarebit topping added a pleasantly savoury note to proceedings without overpowering the burger. Whilst I personally preferred it without the tomato, overall it was a well constructed burger. The fake moustaches we were provided with were the perfect garnish, even if it did make consumption somewhat problematic.
We also chatted with Tom Byng owner of Byron, who revealed plans for the introduction of an own label beer to their craft beer range, which is apparently in for a shake up. Fans of American Craft beer are in for a treat.
He told us that Byron is aiming to raise an ambitious £75,000 in November, which is to be applauded. The Gizz-mo is a tasty way to help them achieve that target, with 50p from each burger going to Movember.
The Gizz-mo is available at all Byron restaurants untill the end of November.