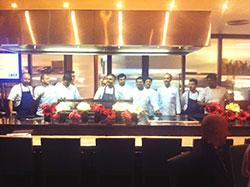 Sunday 3rd November saw Action Against Hunger's Global Gastronomy event take place at Vivek Singh's Cinnamon Kitchen in Devonshire Square. It was a night of delicious food from around the world, courtesy of some of the finest chefs in town, each providing a different course in order to raise funds for people struggling with hunger and malnutrition all over the world.
Cinnamon Kitchen's Abdul Yaseen kicked off the evening, with canapés including succulent cubes of tandoori salmon, spicy lamb koftas in a roti wrap and shots of creamy sweetcorn soup with a perfectly fried sweetcorn bhaji resting on top. Taittinger Champagne washed everything down beautifully, and I could've happily had a meal made up of canapés alone.  
Once guests were seated, Simon Rogan was responsible for the starter, and having wanted to visit L'Enclume for a while, it's now been fast-tracked to the top of the wish list. His potato dish with onion dust and pea puree was delicious – light and delicate with the puree adding just the right amount of moisture and crispy dried carrot strips bringing crunch and colour.  
For the fish course, Jose Pizarro's seabass was fresh, juicy and tender with crispy skin, and perfectly complemented by peppery risotto and salty chorizo. The main was produced by Vivek Singh, and for me was the star of the show. Rare cannon of lamb with a small mound of creamy mash and rich, with spicy rogan josh sauce. Sides of naan and lentil dahl were the perfect touches.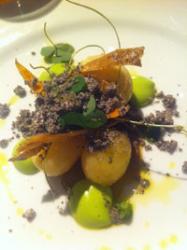 Dessert of mango and white chocolate pavé by Rosewood's Bjorn van der Horst was fresh and vibrant, and the ideal way to end the meal.  
It initially seemed hard to imagine the very different styles of the various chefs working well together, but all the dishes complemented each other well and made for a delicious treat. With the silent auction taking place throughout the evening, the total raised on the night was an impressive £35,000, all for Action Against Hunger's projects such as helping those affected by the crisis in Syria.