Rice is not nice. In fact it proves resolutely unkind to me when I attempt to cook it every which way. I've tried more water,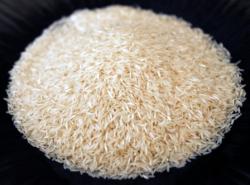 less water, hot water, cold water, rinsing, stirring, leaving it alone, covering it, salting it and standing over it murmuring talismanic incantations like a grainy shaman. Scraping the latest mushy mass bin-wards, I concede it is simply Not To Be.
Luckily, I have plenty of compatriots blessed with superior skills with starches to sate my cravings for pilau, biryani, and pongal. I know I'm not alone- apparently a common taunt in the Indian restaurant kitchen is'you've turned your rice into kichuri'. Friends who grew up cooking in the family restaurant lived in fear of ruining an expensive and profitable commodity.
So, for anyone who has yet to conquer the cooking, here's a host of tips and tricks from my savviest friends. You can chant them out loud over the bubbling pot if you feel it'll bring good fortune your way. But in truth, when you're rewarded with brilliant boiled Basmati, it'll be these people you have to thank- not some magical rice God looking down on you.
The Rice:
Green Saffron's AAA Grade Vintage Basmati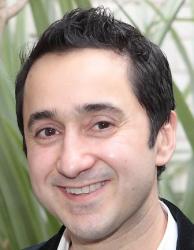 To end with the best dish, you have to start with the best ingredients. Particularly if you're  of slight'culinary dunce' persuasion. Arun Kapil's Irish company dedicated over a year to the discovery of the perfect strain of Basmati– finally ferreted out by his cousin in the Himalayan foothills. It's highly aromatic, and exceptionally well-aged. I'd suggest getting some in before you go any further.
For more information, recipes, and to purchase Green Saffron's AAA Grade Vintage Basmati, visit www.greensaffron.com
The Tips:
Cyrus Todiwala, Cafe Spice Namaste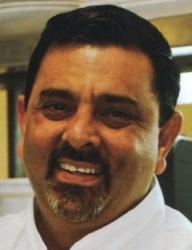 Cyrus opines that the quickest route to perfect pilau is the oven. He uses a 2:1 water:rice ratio (the typical convention), sautées whole spices and onion in a little oil, then boils water, tips in the rice and cooks, stirring,'til the liquid's half absorbed. Then he pops the whole dish, half covered, into a 130 degree C oven, and leaves for 20 minutes before fluffing with a fork to serve. Simple, no?
Cafe Spice Namaste, 16 Prescot St, London E1 8AZ, www.cafespice.co.uk
Atul Kochhar, Benares & Indian Essence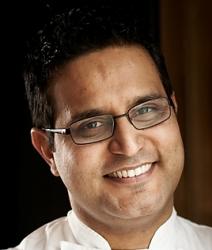 For the nervous novice unsure of cooking times, Atul suggests using a pot with a glass lid, allowing you to keep peeping without letting all the steam out.  Once the cooking time has passed, he forbids removal of the lid until the moment you're ready to fluff up and serve. The chef likes to spice things up- his favourite rice being a steam-baked dish with added butter and aromatic cardamom pods.
Benares, 12a Berkeley Square House, London, W1J 6BS, www.benaresrestaurant.com
Indian Essence, 176-178 Petts Wood Rd, Kent, BR5, www.indianessence.co.uk
Anjum Anand, food writer and founder of'The Spice Tailor'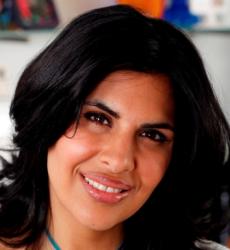 Anjum's cooked her way through a good few sacks of rice, and has even done it ont' telly, dontcha know- for Auntie, to boot. Anjum advises vigilance when purchasing, checking to ensure rice grains are intact (although the broken stuff is also purposely sold for dishes where you want it to break down quickly). She takes her time over washing, and loves brown Basmati for a nutritious change.
For more information, visit Anjum's website at www.anjumanand.co.uk.
For more on The Spice Tailor products, visit www.thespicetailor.com
Vivek Singh, Cinnamon Club, Kitchen & Soho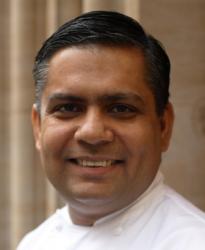 Vivek's got a maverick method… using a microwave. Purists might be aghast, but he promises it removes tricky estimation, and leaves you with a tidy kitchen. He soaks the grain for half-an-hour, washes, drains and pops in a dish with salted water. In go ghee-fried spices and onion, fresh mint and coriander. Then it's 15 minutes in the microwave; a stir, and a final 5 minute burst, covered.
Cinnamon Kitchen, 9 Devonshire Square, EC2M 4YL, www.cinnamon-kitchen.com
Cinnamon Soho, 5 Kingly St, W1B 5PF  www.cinnamon-kitchen.com/Soho-Home
Cinnamon Club, The Old Westminster Library, 30-32 Great Smith St, SW1P 3BU, www.cinnamonclub.com
Reza Mahammad, Chef and star of Food Network UK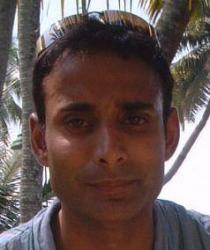 'Spice Prince of India' showcases Reza's lavish, colourful pilaus. But he can keep it simple, too- for perfect plain rice he washes in hot water, rinses well in cold water, and soaks in salted water. The drained grain is boiled with in an open pan until craters appear on the top. The pan is covered with a dry tea towel and lid, and the rice cooked for a further 15-20 minutes on the lowest heat.
Star of India, www.starofindia.eu
For more information on Reza's TV appearances, visit www.rezamahammad.co.uk