19 Copperas St, Manchester, Greater Manchester M4 1HS www.sweetmandarin.com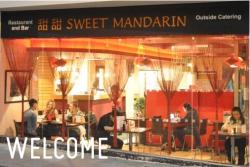 The best thing I can say about Sweet Mandarin is that it's directly behind the hotel I was staying in. Any dining room where I can drink, eat and be back in my bathroom clinging to the toilet bowl in less than 10 minutes, is a good hook for me.
It's not a bad place. The food is not abysmal. The amalgamation of Chinese food in my stomach was not reaching for freedom, but the restaurant does not warrant its label as'Best Local Chinese Restaurant in the UK' (Gordon Ramsay's F Word 2009).
With an 82/100 score in Ramsay's show, they beat Chop Chop in Edinburgh to win. Surely, I thought, this was going to be one of the best Chinese food experiences I've had. Locals had originally voted the restaurant to enter the competition; Jean-Baptiste Requien backed this up with a visit, followed by The Big Sweary Man himself giving them the nod and praising them for their creations.
The family-run restaurant opened in Manchester's Northern Quarter in 2004. Twins, Lisa and Helen Tse are third-generation restaurateurs, with their grandmother, Lilly, apparently opening one of the first Chinese restaurants in the UK in the 1950s.
During a visit in late 2010, a year since their victory, I could tell their finger was off the pulse. Staff seemed to wander lost and there was an overpowering smell of disinfectant, like a GP's waiting room. A return visit during the tail-end of last year and things appear to be running the same.
The menu lists principally Cantonese plates, and has a familiar eye: dumplings, prawn toast, chicken & black bean, sweet & sour prawns. Some crazy names stand out, laced with bold adjectives that give the impression of excitability and high expectation: "The Original General Tse's Sweet & Sour Chicken", "Volcano Chicken" and, "Buddha's Golden Picnic Basket". Huh? They all read like villains from a Bruce Lee film.
"Volcano Chicken" (inspired by Hunan Province) blends chicken with chilli and Hunan sauce. "Lion Head Meatballs" (really?), are made from pork and vermicelli rice noodles and are served in an oyster sauce gravy. I stick with tradition and what I know, and order "Won Ton Soup".
The soup is steeply priced at £4.95, which is more costly than any Won Ton soup I've paid for in London. It contained perfectly plump dumplings in a salty broth but it lacked depth and had a dank, watery consistency. It sprang into life with the introduction of a few drops of chilli oil, something that should never be necessary for Won Ton soup.
Mabel's Claypot Chicken is the restaurant's most popular dish and the one served on the Ramsay show. It's named after mother Tse and according to the sisters, was her favourite dish when she arrived in England from Hong Kong, which tells you all you need to know. The claypot consists of "double-cooked chicken", Chinese sausage (lop cheong), mushrooms, ginger, spring onions and blanched bok choy.
Surely this is not something mother Tse would have promoted. Was this really, honestly, genuinely selected by Ramsay as something special? As it sat in front of me, presented in a Lancashire pot, the thick soup sloshed over like a spilling toilet. It was a slap-dash and unpleasant experience for such a significant dish and steeply priced at £12.95. The sausage over-powered the chicken and the bok choy sat flaccid in a soggy heap, blanched for what looked like years. The addition of side rice for £2.50 developed a cereal grain stodge for the lacklustre chicken to die on.
I hoped for better with Lemon Chicken "Deluxe" but it was equally uninspiring. Strips of chicken were dressed in a "sticky lemon honey" and were cold and sagging. The liberal hand of lemon dressing meant that each bite presented a sour sting and serious preparation was required before moving forward with each new mouthful. Like the Claypot Chicken, this appeared thrown together on bargain-basement tableware without care or precision. A failure on the palate and in appearance. A Tsingtao beer (spelt wrongly on the menu) failed to wash away the persistent lemon sting.
It's difficult to justify an 82% rating and the status of'Best Local Chinese Restaurant in the UK'. True, it's a timely accolade and one which they appear to have not retained, with some other chop house now wearing the Ramsay crown; but during 2010, as now, they're failing in the basics. That may sound severe, but two calendar-spread visits resulted in the same diagnosis. My suspicion is that they are no longer the best in town and probably never were.