Grosvenor has announced that Banca, a new Italian restaurant from Arjun and Peter Waney, the team behind Zuma, Roka and La Petite Maison, and renowned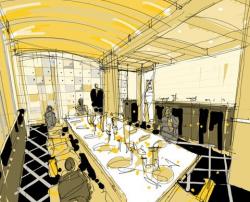 restauranteur, Giuliano Lotto, have signed to open at 30 North Audley Street, Mayfair. The new restaurant is scheduled to open in March 2012.
30 North Audley Street comprises a 4,700 sq ft retail space, which Banca have taken on a 15 year lease, and nine newly converted apartments, three of which are triplexes, each with a terrace. These will come to the rental market in January 2012.
Commenting on the new letting, Helen Franks, Head of Commercial Leasing at Grosvenor said:
'I am excited to welcome Banca to North Audley Street and look forward to their opening next year. Their arrival reflects Grosvenor's aspirations for improving the street as we embark on the next phase of public realm works."
Commenting on his newest venture, Mr Arjun Waney said:
'I am delighted to have a presence in one of the finest streets in Mayfair"
North Audley Street represents the next phase in Grosvenor's public realm programme, which aims to improve the pedestrian experience through enhancing the quality of the urban landscape. The North Audley Street scheme follows successful completion of the £10 million public realm projects on Mount Street in Mayfair and Elizabeth Street in Belgravia.