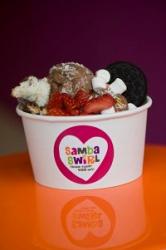 Frozen Yoghurt – or 'FroYo" as they're calling it – seems to be at every turn these days, with the likes of Frae, Snog, Yog, Moosh and Yufori having almost as much street presence as Starbucks. Well, perhaps that's exaggerating a little. But it's increasingly difficult to escape the health conscious' answer to an ice cream parlour while the craze snow balls its way down the streets of our major cities. What's causing this frozen yoghurt frenzy?
I popped down to London's newest addition of Frozen Yoghurt stores – Samba Swirl – in Islington, to check out the store and see what all this 'Froyo" fuss is about.
Only a 5 minute walk from Angel Tube Station, first impressions of Samba Swirl are simple, clean and fun. Luminous pink palm tree scribed walls, which almost burn holes in your eyes, helptake on a vibrant Brazilian theme (hence the 'Samba') and really do give you a big fat welcome.
Once your eyes adjust, it becomes clear that Samba Swirl is a little different to your typical frozen yoghurt store, with the bonus that visitors are liberated to serve themselves. Here, portions are not restricted to bowl size, or how generous the staff feel that day. Not too surprising that the concept was adopted from America (they do lay claim to the Drive-Through after all) visitors should be aware that this novelty also welcomes the risk of getting carried away, and an added danger that you pay by weight at the end. But from a marketing point of view, it's genius.
During my visit I noticed that it's not only the way customers get their yoghurt which is unique to Samba Swirl. The yoghurt itself comes in a variety of flavours, some of which are not to my personal tastes (coconut – hmm). But this added choice does seem to prove popular among its fans.
Company owner, Lyndsey Packham, of which Samba Swirl is the brain child, explains the store's success may be down it offering something a little different to other frozen yoghurt parlours.
'We are an entirely different outlet to other people selling frozen yoghurt," she insists, 'with different positioning and a different offering. We have ice cream style flavours, some of which don't taste of yoghurt whatsoever."
There's a selection of six flavoured frozen yoghurts to choose from at any time- which alternate daily from healthy to gluttonous. Gluttony is again seen through the pick'n'mix style counter, with fruit bar, and additional choice of biscuit and sauce toppings, which are also self-serve. This will ensure you'll probably go over the top, feeling debauched when there is no space in your bowl to squeeze in another jelly bean.
It is probably standard for your first time to result in a diverse pot towering high with treats. Shame though, as that renders opting for frozen yoghurt over ice cream pointless. For instance, my pot included strawberries, blueberries alongside some uncomplimentary pink wafer biscuits, oreos and toffee sauce. But to be honest I didn't really care. Part of me enjoyed feeling greedy and it just made it all the more enjoyable. And I'm assuming that once the need to embrace the greed is well and truly out of your system, it becomes easier to be more sensible next time.
The store is the second to open in the chain after a successful debut in Battersea, so it seems this offering of unique flavours and self serve feature is only aiding the store's achievements. Another reason for this frozen yoghurt store's success could be down to the general increase in people concerned with being healthy, and them taking physical steps to act upon it. But Lyndsey seems to think it's linked to the choice of location. She says:
'It's gone down really well with the locals around in Battersea. It's really about being a part of the community mainly because it's so residential. The kids obviously love us and the parents do as well, which works out nicely, especially since there's nowhere else to go for ice cream in the area."
She tells me that some regulars visit daily, with two specific customers who come in for their frozen yoghurt dose two to three times a day, going to show that giving consumers a choice, especially big greedy ones like myself, is nothing but a good thing.
'Even in Islington, everybody just seems to have really taken to it, we have one customer that if they didn't come in for a day – we'd contact the authorities," she laughs, adding: 'we're probably their emergency contact number!"
Perhaps it's this sense of community value and localism of Samba Swirl's choice of location that has established its name in a long line of similar stores in such a small space of time. But it could also be the added bonus that Samba Swirl offers customers something a little more diverse in concept when compared to the rest, with anyone and everyone who walks inside instantly aware they can get what they want, how they want it, without the need to stress over arteries becoming clogged.
But there's one thing that makes me wonder; will it still be as popular in winter?
Quizzing Lyndsey over this, she assures me the 'FroYo" Craze won't fade too much over Christmas.
'We have some offers coming to just warm up for the yoghurt as much as we can for the winter period – Hot Fudge Sauce and Hot caramel Sauce and more seasonal toppings like hot apple spice, and warm cheery pie, with a candy cane flavoured yoghurt!"
Though I'm not too sure how tasty candy cane flavored yoghurt will be, from what Lyndsey tells me, I'm certain it'll go down well with the locals regardless- whether it's for novelty's sake or not. Though novelty does seem to be too much of a recurring theme at Samba Swirl, it is worth indulging in, and I can see why it can become so addictive. But the good thing is, if you manage to control your urges while serving yourself at the sweet shop, it can be one of few addictions that's better for your health over other deserts available in high street diners. And is probably the reason for its brisk emergence as one of London's most popular frozen yoghurt parlours.