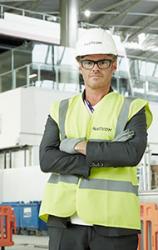 If we're being honest, food on mass transit is lacklustre to say the least. From the disappointing, overpriced terminal grub to the soggy, reheated rabbit food served on board most major airlines (an endangered species on budget ones).
Who better than the country's top experimental chef to turn things around? In June, this dream will become a reality as Heston Blumenthal will be opening The Perfectionists' Cafe in the newly refurbished Heathrow Terminal 2.
The demands of running an eatery in a mass transit location are rather different to running one on a high street, as we discovered when we visited Fortnum and Mason St Pancras earlier this month.
As Heston explains, "Some guests will have very little time to spend with us and others, in transit or with longer check-ins, will have time to linger. The restaurant will of course cater to both, but we want to deliver food that is fun and familiar – food that is stimulating to the palate and at the same time easy to enjoy."
The Perfectionists' Cafe will serve up a range of dishes which will all be informed by Heston's experience and experimentalism. The meat for the burgers, for example, will all be ground in one direction to maximise the juicyness of the meat. Fish and chips promises to be served with "the ultimate crunchy batter" and pizzas will be cooked in the first ever wood fired airport oven.
The decor and vibe of The Perfectionists' Cafe will hark back to the glamour of the sixties, when air travel was considered a luxury and passengers dressed their best in order to fly – a far cry from the modern day where frumpy comfort comes before style.
We're tempted to book a flight from Terminal 2 just to go and sample it.
Photo by Alisa Connan.