12 Upper St. Martin's Lane, London WC2H 9FB, www.dishoom.com
'Hooray, hooray, it's a Holi, holiday!'… For the uninitiated, Holi is one of India's maddest, most colourful festivals- a chance for mad March hares to fling brightly coloured powders at one another, eat copiously and brilliantly, and in general, just have a rum old time.
At Dishoom, the rum makes an appearance pretty smartly. The self-styled 'Bombay cafe' is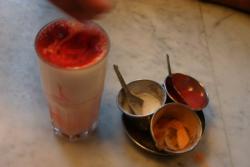 celebrating with aplomb, starting with 'Naughty Holi lassis' made sinful with spirit. A trio of pigmented powders- yellow banana-citrus, green pineapple-pepper, and pink strawberry-ginger- are supplied alongside, to be judiously added by the drinker to achieve the desired shade.
'Judicious' being the operative word. My willful companion takes no heed of our waiter's caveat emptor, 'if you ruin your lassi, it's your fault', and proceeds to do just that. I opt for a tasteful dose of banana-citrus, and am rewarded with the flavour of the medicine I had as a child. Make no mistake- that's a compliment. For a bottle of that stuff, I used to go out of my way to get ill.
Thankfully, there's nothing hands-on about the HoliBollyBellini, and the tasty Prosecco-topped lychee, rose and raspberry concoction is safe from any more meddling. We're less sold on the spherified pearls on top. They do look pretty bubbling away. I'm just not sure on them popping in my mouth. 'Dishoom' is literally an onomatopoeic sound effect, and could be employed to great effect to describe this sensation.
What I do enjoy popping in my mouth are little spoonfuls of the bhel- one of Chowpatty Beach's best-loved snacks. It's a scrunchy, munchy mix of puffed rice, coconut, pomegranate seeds, herbs and zesty tamarind chutney. Like revenge, a dish best served cold. Pau bhaji, on the other hand, is hot- a spicy, tomato rich vegetable puree perfectly engineered for scooping up with soft white rolls, or, as here, toasted muffins.
The main feast arrives in quick succession, obscuring the tabletop with dishes. There's a thick,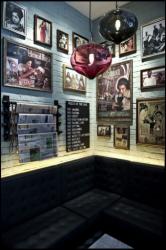 well-chilled raita, a biryani, house black daal and paneer besimal. To mop up we've opted for garlic naan and roomali roti- soft and wonderfully pliable although, to my chagrin, made with white flour rather than atta. A minor complaint, though, when it's loaded with daal as rich and savoury as any Baluchi dish.
The paneer in the besimal benefits from a smoky grilling, served in a smooth garlic and dill sauce. Biryani is the only let down- there's evidence of it's dum crust on the edge of the dish, but it's been cooked a little too long, rendering the rice a tad mushy. A shame when otherwise the gentle spicing is well-judged and flavoursome- this dish should be the star of the show.
Pudding is a hearty serve given the preceding banquet. Pineapple and black pepper crumble arrives in individual dishes with almost cauldron-like proportions, crowned with a scoop of intensely spicy, dense cinnamon ice cream. Praiseworthy indeed, although the chunks of fruit in the crumble need cooking down so they offer unctuous goo, not fibrous crunch.
The smiley staff aren't finished with us yet, though- delivering a small katori of chocolate barfi and tumblers of peppery masala chai, intense with the delicious tooth-aching sweetness of condensed milk. The mithai are so good I ask for their supplier- unsurprisingly, it's that fine confectioner Ambala.
I'm also treated to a few of the staff's other festive food-related recommendations- and the consensus seems to be that the real cream of the crop is to be found in the subcontinent. But then again, by staying put and celebrating Holi at Dishoom you're far less likely to ruin your fancy threads- and you too can have the chance to ruin- ahem, colour- your very own lassi. Just remember, less is more.
The Holi menu is available at Dishoom until 11th March, with extra festivities on Holi itself (March 8th and 9th) including Rangoli patterns on the pavement, costumed staff and mithai for every guest. For full details, visit www.dishoom.com