HUMO in Mayfair opened in January 2023, and today it launches its exclusive and intimate downstairs chef's table; 'Abajo' (which translates to 'below' in Spanish). 
HUMO is a wood-fired kitchen in the heart of Mayfair. Downstairs in Abajo, the team have created their own interpretation on what it means to be passionate about the most refined culinary techniques.

Abajo by HUMO will guide guests through a carefully curated multi-step menu, with each menu chapter championing a seasonal core ingredient, this selection of menu chapters will allow guests to understand the culture behind every flavour as the team experiment with precision Japanese cooking techniques.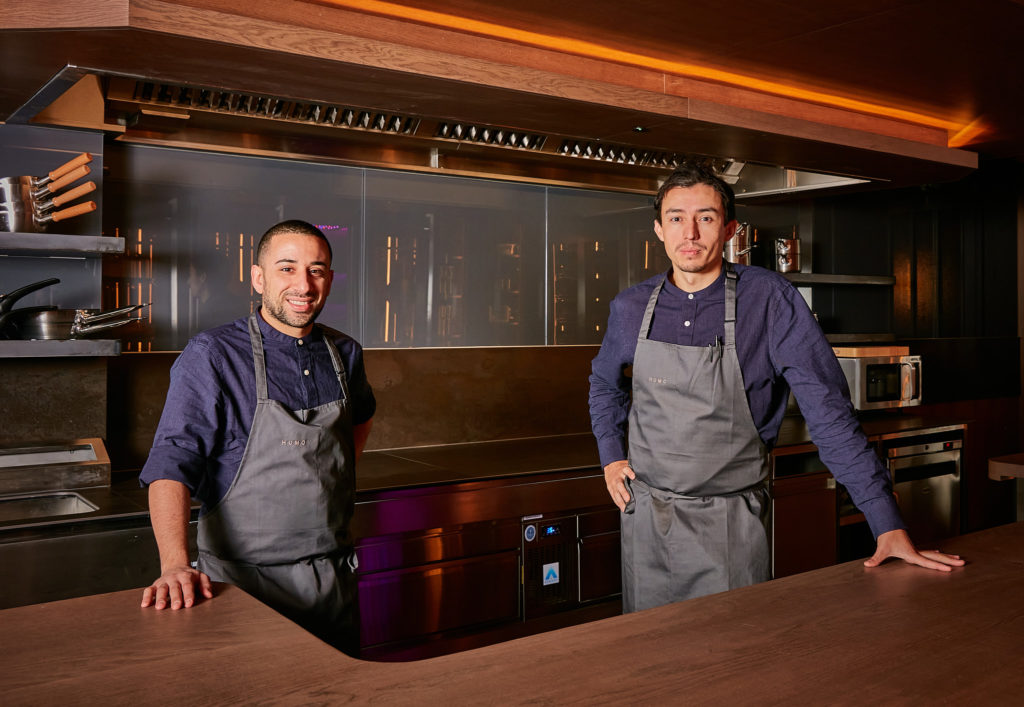 The 'Abajo by HUMO' chef's table space has been designed by interior designers Afroditi studio to encapsulate the ancestral cooking techniques behind the culinary concept of HUMO itself.

It will host up to 10 guests at its chef counter-style dining table, where guests are invited to enjoy the theatrical nature of the HUMO chefs preparing a delicate and elevated array of dishes using a bespoke induction worktop. 
The 'Abajo by HUMO' dining experience will start at £130 per person and will offer a choice of three premium drink pairings, designed to complement each menu chapter.

A wine pairing menu at £90 per person curated by HUMO's Head Sommelier Merlin Ramos and a signature HUMO drinks pairing at £90 per person curated by HUMO's Bar Manager Tom Kapanadze, alongside a non-alcoholic option at £70 per person.
The wine program at HUMO sources wines with personality that reflect the same depth and consideration that the cuisine showcases. From small, artisan growers pushing boundaries, to renowned, classic producers, the focus of the wine list is quality and specificity.
Address: HUMO, 12 St. George Street, W1S 2FB 
Website: www.humolondon.com
Reservation link: [email protected]
Instagram: @humolondon