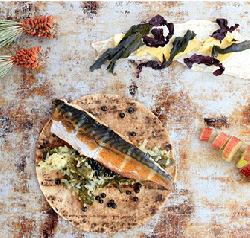 From 7-10 October, Londoners will be able to experience a taste of Iceland when Icelandic farmers, fishermen and other independent food producers will be selling their produce at London's famous Borough Market for the first time. 
"The Icelandic Pantry" marks the first time Borough Market has hosted an Icelandic guest market allowing the primary food producers to travel from Iceland to speak directly with UK shoppers and sell their products.
Shaped by the harsh climate, Icelandic food traditions are inspirational to modern food producers.  From blueberry-cured lamb to artisan pastries, the world's only geothermally produced sea salt to an eco-whey drink blended with wild Iceland moss and Arctic thyme, Icelandic producers are renowned for their unique and innovative approaches to food and drink production.
The country's different regions are represented with organic lambs fed on angelica to give it a special flavour from West Iceland, hot-smoked mackerel from the East and artisan rhubarb brittle from South Iceland will all be there.  Some foods also give an insight into Iceland's rich history, such as a special flatbread dating from the settlement in the 9th century. 
Farmers markets are growing in popularity in Iceland and The Icelandic Pantry is the country's largest artisanal food fayre, taking place in Reykjavik. Founders, Eirný Sigurðardóttir and Hlédís Sveinsdóttir have brought together 14 of the Icelandic producers to travel to London in October.
Eirny Sigurðardóttir says: "For the first time, Icelandic farmers are traveling to London to sell their products there. The purpose of the trip is not only to introduce Icelandic food culture and products to Brits, but it's also a learning experience for us, which will help us grow and improve."