With Christmas just around the corner, could there be a better time to stock up on biscuits? Whether eaten on their own, shared, or dunked in a hot cup of tea or coffee, nothing brings comfort quite as well (or quickly) as a tasty biscuit.
We (very willingly) accepted a box from Fox's, who recently released some new varieties just in time for Christmas. We particularly liked the Caffe Snaps range, which come in hazelnut and caramel flavours and are specifically designed to go well with coffee. Dunked or simply eaten alongside they make a delicious accompaniment.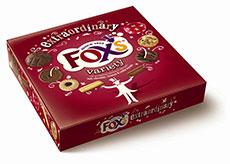 For something a little richer, Fox's Ambers, now in a praline flavour, come with a thick, nutty base and just the right amount of chocolate on top. They are both tasty and comforting and kept us going all day long.
Finally, let's not forget the traditional ranges in light of the newer stuff. For those old hands, nothing beats an assortment tin which contain so many varieties, you'll have to have the family round just to finish them. What better way to spend a wintry evening?