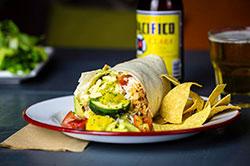 To celebrate the opening of their new Farringdon store, as well as Movember, burrito restaurant Benito's Hat will be offering free burritos to anyone sporting a'tache between 12 and 3pm on Monday 25 November.
Ladies and men without one need not fear, however, as drawn on or stuck on'taches are also eligible. Even better, Benito's Hat will be handing out stick on moustaches to those in the queue on the day.
The restaurant will be collecting for Movember during the event, and burrito-eaters will be encouraged to give generously to the cause during the course of their visit.
12-14 St John Street
EC1M 4AY