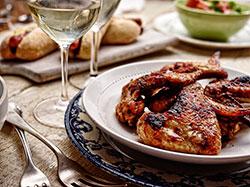 Deepest Highgate was darkest too that night. And rainy and shot through with the kind of cold winds that are fantastic help if you ever wish to forget you have a nose and toes, but pretty unwelcome assistance if you've any other goal in mind.
I was on the trail of a mystery, hunting for an impossible address among streets I hardly knew. Armed with only a vague collection of clues, I was hounded too, by flashbacks to secret birthday parties — cakes hidden around corners. But here the celebrant was going on forty rather than fourteen. And this was the first time a vineyard had invited me to its birthday. 
The Brancott Estate residence showed itself eventually, rearing up like Tracy Island from Highgate's backstreets. It had hid in plain sight all this time: an impressive post-modern bungalow, squatting behind and through a brown-brick flat-block, looking out over a shadowy sea of gardens.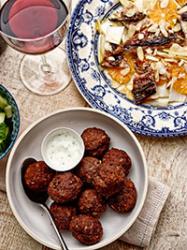 What else should I have expected? Brancott are the sort to specialise in defying expectation.
Forty years ago they planted their first vines in a patch of Marlborough, New Zealand, that most said was too cold to grow grapes. Now they shift enough wine to keep the higher ends of Ocado's collection stocked all year round, plucking up awards for every Sainsbury's shopper turned off by their (pretty reasonable) prices.
This anniversary dinner of theirs was to continue that legacy.
No three-course a la carte, and no tailored choice of wine. Instead out rolled a thirteen dish feast, curated by Rebecca Seal. A gorgeous jumble of cuisines, with academic interest here, and professional finesse there, and a honed line in home-cooked charm running throughout.
Billed by Brancott as "A Taste Exploration", I really have to thank Rebecca for doing just that: exploring. Refreshing with diversity. For here was Turkish Lahmacun – like the light and citrusy offspring of a pizza and a kebab that somehow came away with both its parents' best features – alongside crisp, strong, cheesy arancini, both slamming down on the big red button in me guiltily labelled'comfort'. Not to mention tender pepper-glazed chicken wings, breaking ice across the table as a host of journos dropped fork and knife and proceeded to sticky their fingers and faces.
Among other plates an honourable mention goes to the rare soft seared venison; a coconut-creamy Brazilian take on a Portuguese fisherman's stew; and one of the only convincing solos I've ever seen fennel sing: slow-roasted with cherry tomatoes.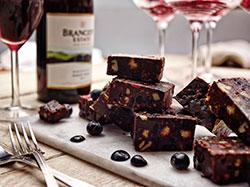 Meanwhile Brancott did what they do best. A chorus-line of six lightish wines that let the food play lead. Some of their famous Sauvignon Blancs, with blossomy noses and grapefruit kicks, and a curvier cordial Sauvignon Gris. Then two Pinot Noirs, one lively and younger, one savoury and oaky.
The strength of these wines is that they're easy to drink and easy to please. Out of thirteen courses there was little pairing that needed to be done – almost nothing in the way of fine-tuning – because these are mellow and enthusiastic wines, missing only one step throughout the feast, as the chocolate cherry tiffin gave one of the pinots a bitter slant. But chocolate is always a tricky one, even for these wines. For the most part, whatever you sit down to eat, they'll smile and say "I'll have what you're having". Metaphorically speaking, I mean. 
I've heard it said that grapevines age a little like people. They're lively and prolific early on, and get complex wise and quirky with time. So here's to Brancott's graceful ascent to middle-age, and a confirmation that their new vintage of Sauvignon Blanc – 'Flight' – is less a boozy mid-life crisis and more something light, lower in alcohol: sensible without skimping on character.