Atul Kochhar is mixing things up nicely at Benares, inviting a rotating roster of top mixologists, bartenders and brand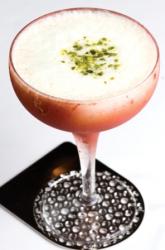 ambassadors in to shake up proceedings in the restaurant's bar. Working alongside the in-house team, each guest will create a cocktail fusing their own ideology with the Indian ingredients, spices and aromats the venue is known for.
For your £35, you get to participate in an interactive cocktail masterclass, the results of which are served forth with a sprinkling of  snackerels from the Benares bar platter Atul's created for the occasion. Chivas ambassador Phil Duffy is first to raise the bar, demonstrating Benares' bar manager Giovanni Spezziga's'Darkest Devotion' cocktail.
Further participants and beverage details will be announced throughout the year-long Season. The new drinks temporarily join the existing bar menu which features already-exceptional offerings including a signature Passion Fruit Chutney Martini and the spice-laden Masala Sour. Whether guests will be able to use curry leaves as cleverly as the Mumbai Martini remains to be seen.
The Benares Blend Season commences on 20th February and runs throughout 2013. For more information on Benares Blend Season, visit www.benaresrestaurant.co.uk