No, he's not hitting the dole, but the chef will undoubtedly get a lot of benefit from his new Soho venture, Social Eating House. So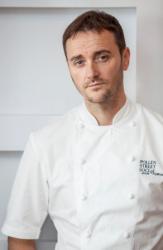 will fans of Atherton's assured cooking, who will find a British bistro menu as easy on the wallet as the palate – with dishes prices falling between £6 and £18. Heading up the kitchen is Atherton acolyte Paul Hood, who's worked alongside Jase for half a decade.
The restaurant decor keeps in with that distress-to-impress ethos so popular of late – all exposed brickwork, white-washed copper ceilings and weathered leather banquets. Dishes are somewhat smarter, with signature offerings counting pork with beetroot, white polenta, spring onion and savory and London honey sponge with goats' curd ice cream amongst their number.
Upstairs, mixologist Gareth Evans heads up the Blind Pig bar, turning out tipples including a'Thermonuclear daiquiri' and the enigmatically-titled'Scrub a Dub Dub'. The bowels of the building, meanwhile, will be all a-rumble with rambunctiousness from diners in the hidden'Employees Only' 15-cover wrap-around bar. You don't have to be social to eat at this house – but it helps.
Social Eating House opens in April. Social Eating House, 58 Poland Street, W1F 7NR, www.socialeatinghouse.com