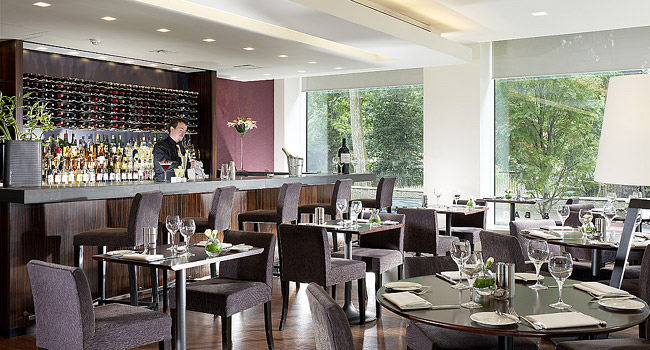 Island Restaurant & Bar, the dining space overlooking Hyde Park, is introducing a brand new gourmet à la carte breakfast menu. The new menu, woffers guests a two or three-course plated breakfast, accompanied by a selection of juices, pastries, teas and coffees.
Each diner has the choice of four freshly squeezed juices including: orange; apple and mango; pink grapefruit; and carrot and ginger. Guests can also chose between either a basket of freshly baked Danish pastries, croissants, muffins and toast, or a basket of toasted cinnamon and raisin bagels.
The Head Chef, Jean-Claude Vydelingum, has created a three-course menu of classic and innovative breakfast dishes. Starters include favourites such as fresh fruit salad, granola and organic porridge, as well as some more unusual dishes including Breakfast Nachos, combining tortilla chips with fresh strawberries, banana, pineapple and chocolate sauce.
The main courses comprise of the classic English breakfast, Veggie breakfast, Eggs Benedict and omelettes, as well as the more luxurious Lobster Club Sandwich and a Breakfast Burrito, which is a tortilla wrap filled with eggs, potato, mixed peppers, red onion and spinach topped with farmhouse cheddar and served with sour cream and home-made tomato salsa.
The tempting desserts include Buttermilk pancakes with poached pear and honeycomb cream; Waffles and maple syrup; Breakfast brioche with Greek yogurt, banana, lavender honey and pecan nuts; and Chocolate French toast, covered in strawberries, pistachios and warm chocolate sauce.
The dishes are all elegantly presented on stylish white Dudson china and opaque glass plates.
The decadent breakfast menu will be available from 7am to 10.30am seven days a week. The menu is priced at £23 for two-courses and £27 for three-courses.
Located directly above Lancaster Gate tube station and just moments from Oxford Street, Island Restaurant & Bar is the perfect place for a business meeting or brunch with friends or colleagues.
Island Restaurant & Bar, Lancaster Terrace, London W2 2TY