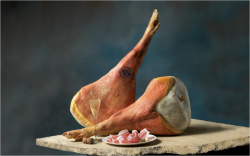 The Consortium of Prosciutto di San Daniele and the Consortium of the Friuli Venezia Giulia wine PDOs will be showcasing two of the region's most remarkable products; the much acclaimed Prosciutto di San Daniele, alongside a range of carefully selected white wines from Friuli Venezia Giulia, a unique region known for some of the world's finest whites.
Doors will open on the 'Sapore' Pop Up on Tuesday 22 May with a daily schedule of public tastings and masterclasses set within a, rustic pop up shop in Covent Garden. Experts, chef Andrea Mantovani and Consortium members, will be on hand to talk through the pairing and encourage visitors to experience the complementary flavours. Come evening time, 'aperitivo' will be served in true Italian style from 6.30-9.00pm, with a live DJ set on Friday and Saturday nights.
Prosciutto di San Daniele and white wines from Friuli Venezia Giulia are created in a distinct and unique microclimate locked between the Alps and the Mediterranean Sea. The production techniques of the prosciutto and wines have been passed down for centuries in San Daniele del Friuli and remain unchanged. The Friuli Venezia Giulia region is home to 10 Denominazione di Origine Controllata (DOC) and three Denominazione di Origine Controllata e Garantita (DOCG) varietals; these terms represent a promise of quality and are the highest category of wine in Italy.
Vladimir Dukcevich President of Consortium of Prosciutto di San Daniele says, 'Ancient history and traditions dating back to Roman times live on in the present day San Daniele prosciutto flavours, with the taste untouched due to the maintaining of hand prepared and natural methods of our ancestors. The legs of Italian pigs are exclusively cured using only sea salt, in the small town of San Daniele del Friuli by one of only thirty-one producers who are members of the consortium.".
Visitors will also be able to purchase the prosciuttos and wines from the Sapore Pop Up.
Sapore Pop Up will be open from Tuesday 22 May – Sunday 27 May, 10.00am – 10.00pm Tuesday to Thursday, 10.00am – 11.00pm Friday and Saturday, The Piazza Covent Garden, London, WC2E 8HA