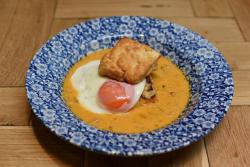 Joe's Southern Kitchen & Bar has just announced its second site on Kentish Town Road, offering North London its trademark fried chicken, American dishes and cocktails.
Spread over two floors and occupying the former site of Kentish Canteen, the new Joe's will feature a 90 cover ground floor restaurant and outside 20 cover BBQ and dining space, along with a basement bar. 
Heading up the kitchen is the newly appointed Executive Chef Trevor Tobin (Steam & Rye, The Big Easy, Goodman), accompanied by Head Chef and creator of the original Joe's menu, Mark Jeevaratnam. The new menu at Joe's Kentish Town will feature many of the favourites from the original venue, but the main focus will be the venue's signature new recipe, Sweet Tea Brined Fried Chicken with Lemon Salt & Tabasco Honey.
Alongside the signature chicken, the menu will include the brand's famous Beef Short Rib and Southern favourites like Devilled Eggs, Mac 'n' Cheese and Gooey Corn Spoon Bread. Breakfast and brunch will also have a big focus and will feature American breakfast favourites
Downstairs the  basement bar makes the most of its history as a police station. Alcoves originally used as cells have been transformed into drinking booths with a large selection of Bourbons and Ryes. The beer list includes American favourites and craft labels.
Monday to Friday 8am to Midnight – Saturday and Sunday 9am to Midnight
Joe's Southern Kitchen & Bar
300 Kentish Town Road, London, NW5 2TG